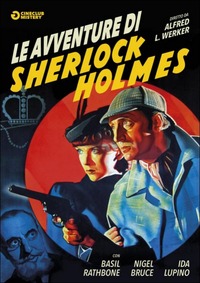 Un film di Alfred L. Werker. Con Basil Rathbone, Nigel Bruce, Ida Lupino Titolo originale The Adventures of Sherlock Holmes. Giallo, b/n durata 85′ min. – USA 1939. MYMONETRO Le avventure di Sherlock Holmes





valutazione media: 2,25 su 4 recensioni di critica, pubblico e dizionari.
Il malvagio Moriarty spinge Sherlock Holmes su una falsa pista, mentre attua un ingegnoso piano per rubare i gioielli della Corona. Con Il mastino di Baskerville è uno dei 2 film che la coppia Rathbone-Bruce interpretò prima della serie di 12 film tratta dai romanzi di Conan Doyle. Zucco efficace nella parte di Moriarty.
« Driftwood – Ossessione Fatale – dvdrip ita Road Rage – Furia sulla Strada – dvdrip ita »