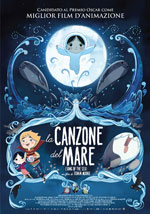 Un film di Tomm Moore. Con David Rawle, Brendan Gleeson, Fionnula Flanagan, Lisa Hannigan, Lucy O'Connell.Titolo originale Song of the Sea. Animazione, Ratings: Kids+13, durata 93 min. – Irlanda, Danimarca, Belgio, Lussemburgo, Francia 2014. – Bolero Film uscita giovedì 23 giugno 2016. MYMONETRO La canzone del mare





valutazione media: 3,73 su 10 recensioni di critica, pubblico e dizionari.
Saoirse è una bambina particolare, a 6 anni ancora non riesce a parlare e prova una strana e fortissima attrazione per il mare. Vive nella casa sul faro con il papà e il fratello maggiore Ben, spesso imbronciato e antipatico con la sorellina che ritiene responsabile della scomparsa dell'amata madre.