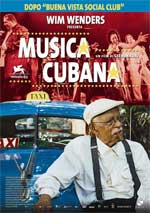 Un film di German Kral. Con Pío Leyva, Barbaro Marín, Mario 'Mayito' Rivera, Pedro 'El Nene' Lugo Martínez, Telmary Díaz Titolo originale Música cubana. Documentario, durata 90 min. – Cuba, Germania, Giappone 2004
Barbaro, tassista dell'Avana appassionato di musica, carica sul suo taxi il cantautore Pío Leyva, star del leggendario Buena Vista Social Club. L'entusiasmo per l'incontro casuale con uno dei suoi miti insinua in lui un'idea un po' folle, da autentico sognatore: formare una band, guidata da Leyva, che riunisca il meglio della nuova musica cubana, per una fusione perfetta tra modernità e tradizione. Quando il cantautore, ormai anziano ma con l'energia di un ragazzino, accetta di dirigere il progetto di questo improvvisato impresario musicale, inizia un viaggio affascinante e travolgente nelle sonorità di un'isola lanciata verso il futuro, ma pienamente consapevole del proprio importante passato.
Prodotto da Wim Wenders, che nel 1999 aveva diretto un ottimo documentario sulla straordinaria avventura del Buena Vista Social Club, Musica cubana aggiunge un nuovo tassello alla ricostruzione europea di un fenomeno che ha valicato i confini caraibici per travolgere il mondo intero con i suoi ritmi trascinanti. Ma, dietro l'allegria e la vitalità così tipicamente cubane, c'è una sofisticata ricerca sonora che affonda le proprie radici in un passato difficile, permeato dalla sofferenza. Ben lo spiegano i giovani musicisti che il regista German Kral intervista, seguendo le prove per la tournée mondiale sognata da Barbaro. Chi tra loro ha origini africane è consapevole dei dolori patiti dagli schiavi neri. «Noi siamo gli eredi di questa storia – afferma uno dei musicisti – e conserviamo dentro di noi il senso di questa sofferenza. Ma con i tamburi trasformiamo la tristezza in allegria. Dove c'è un nero con un tamburo c'è una festa».
La musica cubana deriva proprio dalla tradizione dei tamburi importata dagli schiavi condotti dall'Africa. Naturale, allora, che questo popolo abbia il ritmo nel sangue e che la voglia di ballare superi lo scoramento per le carenze materiali. L'allestimento di questo visionario progetto musicale diventa, così, la celebrazione di una grande festa di strada, dove la musica sbuca dagli angoli più remoti e inaspettati di questa Avana piena di contraddizioni. «Cuba – racconta una musicista – è un'isola fatta di rumori, dove l'acqua spesso manca, la gente tiene la tv ad alto volume, i bambini per strada vogliono partecipare. Cuba è un'isola fatta di cose negative e positive, tante contraddizioni, e io sono parte di tutto questo». Un tutto che significa anche povertà. Così, il viaggio del regista sulle tracce di Pío Leyva and The Sons of Cuba diventa anche un viaggio alla scoperta degli affollati "barrios" da cui molti di questi giovani musicisti provengono, con le loro baracche e la voglia di affrontare le avversità con il sorriso sulle labbra e un tamburo in mano.
Tra le tappe compiute nel documentario c'è anche quella che conduce il regista alla Scuola Nazionale delle Arti dell'Avana, dove i talenti del domani coltivano la passione e lo studio della musica tradizionale, perché nessuno di questi giovani lanciati verso il futuro e portati all'innovazione intende negare le proprie radici. Così, dall'incontro tra il jazz, il reggae, l'hip hop, la dance latino-americana e le sonorità africane nasce una musica nuova che ha l'intensità e l'energia trascinante di una fusione perfetta, proprio come quella che è all'origine del popolo cubano. E se si pensa che le sonorità raffinate della celebre "Chan Chan", targata Buena Vista Social Club, non abbiano nulla in comune con il rap, basta ascoltare la versione eseguita dai Sons of Cuba a Tokio per comprendere quanto quest'idea sia sbagliata. E, mentre il Giappone si lascia contagiare dall'entusiasmo esportato dal vento caraibico, il regista rende il giusto omaggio a un cantautore, Pío Leyva, che sarebbe scomparso due anni dopo e che, dopo una carriera straordinaria, ammetteva di sentirsi un bambino, «perché ho tutto quello che da piccolo non ho potuto avere».