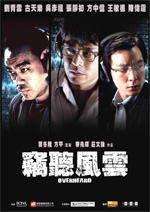 Overheard è un film di Felix Chong, Alan Mak. Con Lau Ching-wan, Louis Koo, Daniel Wu Titolo originale Qie ting feng yun. Thriller, durata 100 min. – Hong Kong, Singapore, Cina 2009. MYMONETRO Overheard





valutazione media: 3,00 su 1 recensione.
Johnny guida un team composto dai fidati Gene e Max in un'indagine pericolosa quanto ardua su una frode di inside trading. Notti trascorse a spiare il lusso e il vizio e a combattere la tentazione di farsi contaminare dal sottile fascino del denaro facile.
Avevamo lasciato Louis Koo in Accident, cuffie alle orecchie e perennemente in ascolto, e così lo ritroviamo in Overheard; ma da genio della messinscena e artista del crimine, diviene qui un agente anti-frode così disgraziato che la sua famiglia pare quella del conte Mascetti di Amici miei. A capo del team un'icona del cinema anni '90 di Hong Kong, Lau Ching-wan, al suo fianco l'onnipresente e duttile Daniel Wu. Un terzetto di star, qui amici-colleghi-complici, che regala grandi momenti di cameratismo e un pizzico di sentimentalismo in un meccanismo a orologeria che concede poco alle ragioni del cuore.Overheard nasce infatti dalla mente di Alan Mak e Felix Chong – già alle spalle di diversi capisaldi del cinema dell'ex-colonia, ma soprattutto di Infernal Affairs – e, a costo di sfiorare la maniera, aderisce integralmente alla loro idea di cinema, fatta di trame fittissime, menzogne, doppi giochi e marciume nascosto proprio dove sembra luccicare l'oro.
La fotografia è stilosa e i toni sontuosi, tra il solenne e l'enfatico, per raccontare l'ennesima parabola sulla farina del diavolo che se ne va in crusca: money money money, root of all evil. E se su vendetta e contrappasso aveva già detto tutto o quasi John Woo nel capolavoro A Bullet in the Head, Mak e Chong rielaborano con tutt'altra estetica e mescolando i generi con sapienza. I loro personaggi sono sempre piccoli uomini del Machiavelli, pieni di difetti e portati quasi naturalmente al male, anche quando la loro indole sembrerebbe andare in direzione contraria. Ognuno ha i suoi segreti, ognuno i suoi piccoli o grandi vizi, ma di per sé non è quest'ambiguità morale a condannarli; a quello ci pensa il postino del Fato, quello che suona due volte.
Un'architettura mirabile, quindi, in cui però non tutto fila liscio, a partire dalle sottotrame fragili, abbandonate un po' bruscamente (quando non sono palesemente pleonastiche), per lasciare spazio agli stravolgimenti dell'intreccio principale. Ma il mestiere salva tutto, unito alla nonchalance, tutta hongkonghese, con cui sono ritratti il dolore e la morte, osservati con cruda quanto veridica ferocia. Impressionante in questo senso la sequenza dell'ospedale, culmine di un blockbuster che restituisce fiducia a due dei più ispirati creativi del cinema di Hong Kong.