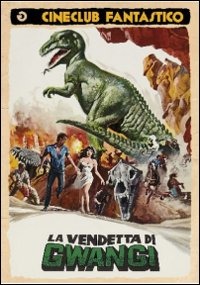 Un film di James O'Connolly. Con James Franciscus, Richard Carlson, Gila Golan, Dennis Kilbane, Laurence Naismith, Gustavo Rojo.  Titolo originale The Valley of Gwangi. Fantascienza, durata 95 min. – Gran Bretagna, USA 1968. MYMONETRO La vendetta di Gwangi 





 valutazione media: 3,00 su 1 recensione.
Una notte, uno zingaro fa irruzione nell'accampamento di un circo itinerante. L'uomo è agonizzante. Mormora qualche frase sconnessa a proposito di una vendetta di Gwangi e muore lasciando cadere un sacco in cui si agita qualcosa di vivo. Il sacco contiene un heoippus, un minuscolo cavallo preistorico incredibilmente vivo e vegeto, e gli uomini del circo pensano subito di farne l'attrazione principale per i loro spettacoli. Alcuni zingari, spaventati da una maledizione che incomberebbe sulla valle dalla quale l'animale è stato sottratto, lo rapiscono con l'intenzione di liberarlo. Kirby ed i suoi cowboys si mettono sulle sue tracce, si addentrano nella valle proibita e scoprono che è abitata da gigantesche creature preistoriche. Dopo avere assististo ad una tremenda lotta fra due giganteschi animali, i cowboys manovrano con abilità i lazos e fanno prigioniero un dinosauro-tirannosauro, già pregustando il momento in cui lo esibiranno nel loro spettacolo. Ma Gwangi – questo è il nome del mostro preistorico – al momento di "debuttare" sulla scena, fugge dalla gabbia e scatena paura e caos tra gli abitanti della cittadina accorsi a vederlo. Gwangi è una vera e propria furia: nulla sembra fermarlo. Insegue i fuggitivi in lungo e in largo fino a restare prigioniero all'interno di una chiesa in riparazione. Nell'edificio Kirby cerca di abbatterlo. Nell'impari lotta l'uomo sembra avere la peggio, ma cadendo sulla tastiera di un organo scopre che il suono stordisce l'animale. Approfittando della circostanza, il cowboy ferisce Gwangi e mentre l'animale urlante e furioso cerca una via d'uscita, dà fuoco all'edificio. Il film nasce da un progetto accarezzato da Willis O'Brien nel 1942 e che nel 1950 aveva trovato forma, con la collaborazione di Harryhausen, nel soggetto "The Valley of the Mist". In questo senso, la pellicola è un omaggio al grande maestro della stop-motion. Il Gwangi di O'Brien doveva essere una sorta di gigantesco scorpione. Harryhausen preferice trasformarlo in un dinosauro per giocare più liberamente con i trucchi e per rendere più movimentata la storia. Il film è spesso considerato minore e convenzionale, ma ad un esame più attento ci si accorge che questo giudizio è poco fondato. La sceneggiatura presenta i personaggi e il mostro come simboli della eterna lotta tra l'eroe, la bella e la furia cieca del male primordiale: una caratterizzazione che volutamente trascura il ritratto psicologico dei protagonisti. Anche l'uso del colore è concepito per avvalorare il significato della favola, con una predominante del rosso a significare di volta in volta il mistero (gli zingari), la sensualità (una scatenata danzatrice), la vittoria del bene (le fiamme che bruciano la bestia). Una impostazione lineare che viene imprevedibilmente ribaltata nella sequenza finale dove un bambino piange la morte del mostro e che suggella, in definitiva, il trionfo dell'ordine sulla libertà della natura, e quindi della fredda razionalità sulla spontanea innocenza della fantasia. Nonostante la qualità del lavoro di Harryhausen, La vendetta di Gwangi non riscosse il successo sperato. Forse perché già estraneo in un cinema che cominciava ad essere permeato dalla contestazione giovanile o forse perché anacronistico in un genere, proprio in quell'anno, segnato dalle riflessioni filosofiche e dalle sbalorditive soluzioni di 2001: Odissea nello spazio.