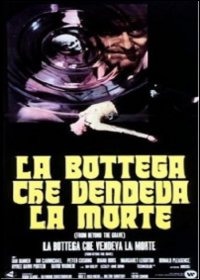 Un film di Kevin Connor. Con Peter Cushing, Ian Bannen, Margaret Leighton, Ian Carmichael, Diana Dors. Titolo originale From Beyond the Grave. Horror, durata 97 min. – Gran Bretagna 1973. MYMONETRO La bottega che vendeva la morte





valutazione media: 3,14 su 11 recensioni di critica, pubblico e dizionari.
Il film – una tra le migliori "horror anthologies" prodotte dalla Amicus – intreccia quattro storie che hanno per protagonisti gli occasionali clienti del piccolo negozio di un anziano antiquario interpretato da Peter Cushing. Gli episodi, tutti ben congegnati, rimandano alla tradizione gotica del racconto orrorifico inglese, ma il quarto presenta anche qualche interessante commistione con la fantascienza profilando, pur vagamente, la possibilità di un universo parallelo o di un varco temporale verso un'altra realtà.
Nel primo episodio intitolato "The Gate Crasher", Edward Charlton (David Warner) acquista un prezioso specchio barocco nel quale si materializza uno spettro che gli ordina di uccidere e poi di suicidarsi.In "An Act of Kindness", Christopher Lowe (Ian Bannen) ruba una medaglia e rimane vittima di un sortilegio voodoo che coinvolge il suo amico Jim Underwood (Donald Pleasence) e la figlia di questi.In "The Elemental", il truffatore Reggie Warren (Ian Charmichael) è perseguitato da uno spirito diabolico la cui presenza è percepita soltanto da una sinistra veggente."The Door" racconta, infine, di un'antica porta finemente intagliata che William Seaton (Ian Ogilvy) compra per abbellire la propria villa. Una volta incardinata, la porta si apre nella stanza di un sanguinario occultista del 17° secolo che si nutre del sangue degli ignari ospiti per conquistare l'immortalità. Lottando contro l'attrazione magnetica che lo spinge ad entrare nell'altra dimensione, Seaton riesce a liberarsi dalla magia sfondando la porta con un'accetta.Titoli alternativi:Creatures from Beyond the Grave, Tales from Beyond the Grave, Tales from the Beyond, The Undead.