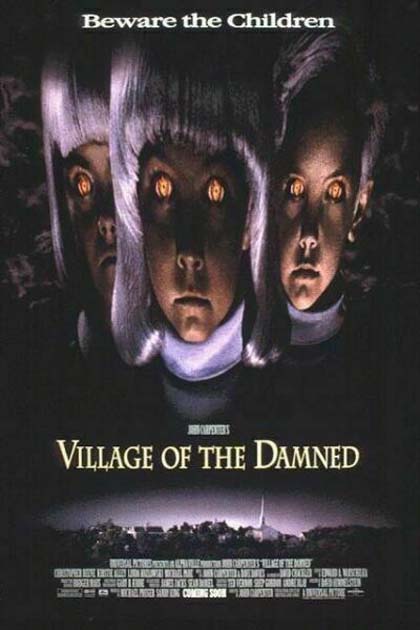 Un film di John Carpenter. Con Christopher Reeve, Linda Kozlowski, Michael Paré, Mark Hamill, Kirstie Alley. Titolo originale The Village of the Damned. Fantascienza, durata 98′ min. – USA 1995. MYMONETRO Il villaggio dei dannati





valutazione media: 1,99 su 13 recensioni di critica, pubblico e dizionari.
Nella cittadina di Midwich (California) tutte le donne giovani vengono ingravidate da una misteriosa forza extraterrestre e danno alla luce un gruppetto di bambini, biondissimi (quasi albini) come Hitler sognava gli ariani e dotati di sovrumani poteri mentali, adibiti a malefici scopi di dominio e distruzione. 2ª riduzione del romanzo I figli dell'invasione (1957) di John Wyndham: un mediocre film del più hawksiano dei registi statunitensi, ma che qui non ha spessore né echi, nemmeno a livello metaforico. Personaggi evanescenti e, quando entrano in scena i terribili biondini, si scivola nel ridicolo involontario. V.M. 18 anni.