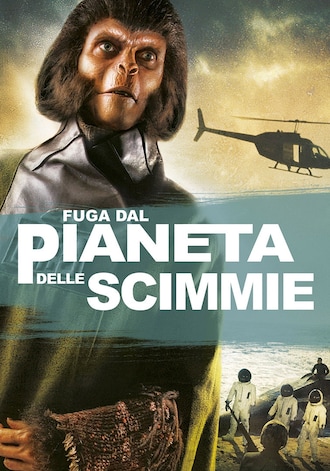 Un film di
Don Taylor
. Con
Bradford Dillman
,
Kim Hunter
,
Ricardo Montalban
,
Roddy McDowall
,
Sal Mineo
. Titolo originale
Escape from the Planet of the Apes
.
Fantascienza,
durata 98 min. – USA
1971
.
MYMONETRO
Fuga dal pianeta delle scimmie





valutazione media: 3,04 su 7 recensioni di critica, pubblico e dizionari.
Il film è il seguito di L'altra faccia del pianeta delle scimmie e prende le mosse dall'esplosione atomica provocata dal comandante Taylor che ha condannato il pianeta alla distruzione. Milo, Zira e Cornelius riescono, tuttavia, a fuggire a bordo di un'astronave, ma l'onda d'urto li sbalza indietro nel tempo facendoli ammarare sulla Terra all'inizio degli anni '70. La navicella viene recuperata, e le scimmie, dopo numerose peripezie, ottengono ascolto da una commissione d'inchiesta per mettere in guardia l'umanità sui pericoli del nucleare. Sottoposta ad ulteriori esami e sotto l'effetto di un farmaco, Zira rivela quanto il destino ha deciso per il futuro e il dottor Haschlein, nel tentativo di mutare il corso degli eventi, ordina di ucciderla insieme con il compagno. La tragica fine di Zira e Cornelius non servirà, comunque, a cambiare la storia poiché nel circo presso il quale i due avevano trovato rifugio è nato, nel frattempo, il figlio predestinato a guidare la riscossa della loro specie contro il genere umano.