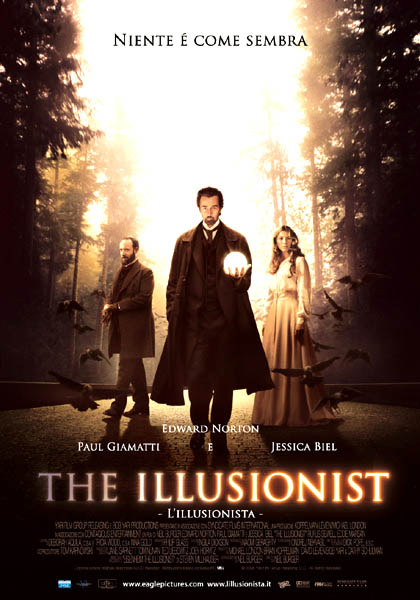 Un film di
Neil Burger
. Con
Edward Norton
,
Paul Giamatti
,
Jessica Biel
,
Rufus Sewell
,
Eddie Marsan
.
Titolo originale
The Illusionist
.
Fantastico,
Ratings:
Kids+13
, durata 110 min. – USA
2006
. – Eagle Pictures
uscita venerdì 6 aprile 2007. MYMONETRO
The Illusionist – L'illusionista





valutazione media: 3,00 su 160 recensioni di critica, pubblico e dizionari.
Siamo all'inizio del XX secolo, in Austria. Eisenheim è un adolescente innamorato (e ricambiato) della bella Sophie: la ragazza però, è promessa sposa del Principe Leopoldo, erede al trono. I due sono costretti a separarsi ed Eisenheim scompare dalla circolazione. Quindici anni dopo, il ragazzo è cresciuto e strega Vienna con spettacoli nei quali mette in mostra le sue incredibili doti di illusionista: una sera incontra Sophie, e l'amore si riaccende, ma il Principe Leopoldo, aiutato dall'Ispettore Generale Uhl, capo della Polizia, fa di tutto per stroncare una volta per tutte la relazione.
The Illusionist è la storia di un triangolo sentimentale: alla magia dell'amore, si aggiungono gli stupefacenti incantesimi di Eisenheim, padrone del palcoscenico e dell'arte dell'illusione. Neil Burger, il regista, è bravo a raccontare la storia con stile asciutto e a rappresentare una Vienna credibile e vivace, grazie all'eccellente fotografia di Dick Pope. Le uniche perplessità riguardano un plot forse troppo convenzionale, vista la materia trattata, e a cui manca, pur essendo di fatto presente ma troppo prevedibile, un valido colpo di scena finale. La sceneggiatura si concentra sulla storia d'amore e sull'evoluzione dei personaggi, mentre restano appena accennati temi che forse avrebbero meritato un maggiore approfondimento come il contrasto fra scienza e magia e tra raziocinio e immaginazione. Nel cast brillano l'ambiguo Paul Giamatti e la bella Jessica Biel, mentre a sembrare un po' spaesato e fuori parte è proprio Edward Norton, la cui performance è valida, ma lontana dai suoi (altissimi) standard, quasi che l'attore fosse soverchiato dalla magia del personaggio che interpreta. Menzione speciale invece, per l'eccezionale score di Philip Glass, musicista ricercato e minimalista, che colpisce orecchie e cuore dello spettatore, con melodie capaci di avvolgere il film in un'aura magica. Grazie anche a questo fondamentale contributo, The Illusionist, offre numerosi momenti emozionanti, appassionanti, e una sequenza, quella dello spettacolo con "l'albero di arance ", da iscriversi direttamente nella storia del cinema.