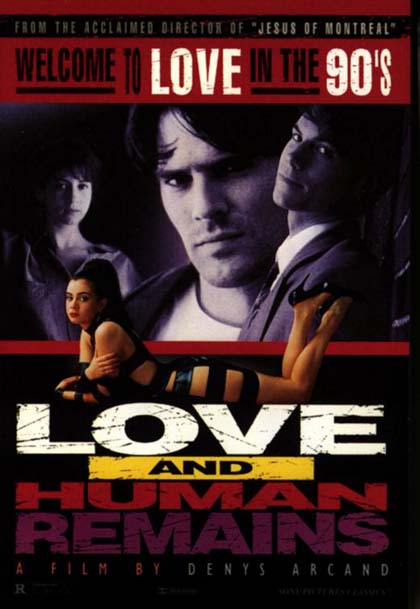 Un film di Denys Arcand. Con Thomas Gibson, Ruth Marshall, Cameron Bancroff, Mia Kirshner Titolo originale Love and Human Remains. Thriller, durata 100′ min. – Canada 1993. MYMONETRO La natura ambigua dell'amore





valutazione media: 2,42 su 7 recensioni di critica, pubblico e dizionari.
Dalla pièce Unidentified Human Remains and the True Nature of Love di Brad Fraser che l'ha anche sceneggiato. David (T. Gibson), giovane gay, cameriere ed ex attore, convive con…la ex fidanzata Candy (R. Marshall), insoddisfatta e non ancora decisa se scegliere un giovane collega o lasciarsi andare tra le braccia di una insegnante lesbica. Mentre entrambi cercano la loro strada in città c'è un maniaco che uccide ragazze e che, forse, è un amico dei due. 1° film in lingua inglese del franco-canadese Arcand. Provocatoria e pessimista, è un'acuta analisi di un ambiente e di una generazione, un'interrogazione sulla natura dell'amore, senza proporre risposte. Molto, troppo parlato e didattico, ha un bel gruppo di attori capaci di far gioco di squadra. Il versante thriller è secondario.