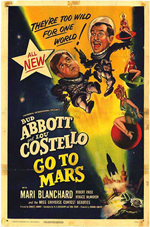 Un film di Charles Lamont. Con Bud Abbott, Lou Costello, Mari Blanchard, Robert Paige, Horace McMahon. continua» Titolo originale Abbott and Costello Go to Mars. Comico, Ratings: Kids+13, b/n durata 77 min. – USA 1949.
Coinvolti per una serie di equivoci in un volo nello spazio, i pasticcioni Gianni e Pinotto finiscono sul pianeta Venere dove hanno la gradita sorpresa di conoscere una affascinante regina (Mari Blanchard) ed una schiera di bellissime venusiane. L'accoglienza è delle più piacevoli, ma ogni mondo è paese: le donne, anche su Venere, sono pur sempre donne… e dunque, di umore molto variabile…
Tiepida parodia dei film di fantascienza giocata sui prevedibili lazzi dei due comici e sul tema del matriarcato extraterrestre.Le aspiranti al titolo di Miss Universo 1952 sono mobilitate per impersonare le abitanti di Venere.