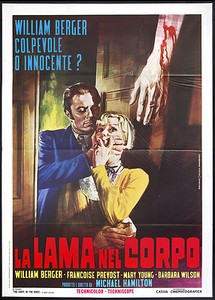 Un film di Elio Scardamaglia. Con Françoise Prévost, William Berger, Mary Young, Philippe Hersent, Harriet White.Horror, durata 90 min. – Italia, Francia 1966. MYMONETRO La lama nel corpo





valutazione media: 2,00 su 1 recensione.

Nel segreto di un laboratorio celato all'interno della sua clinica psichiatrica, il dottor Vance si dedica a trapianti di organi per restituire bellezza alla cognata (e amante) Laura rimasta sfigurata in seguito ad un incidente del quale egli si sente responsabile. Giselle, una ragazza ricercata dalla polizia, intuisce parte della verità quando, nel suo vagabondare, si rifugia nella casa di cura: insospettita dalla sparizione di alcune giovani ricoverate, commette lo sbaglio di ricattare il dottore (il vero assassino) credendo che Laura, la misteriosa reclusa che si aggira nel laboratorio, sia l'artefice dei delitti.
Elio Scardamaglia rielabora senza molta convinzione la fantamedicina di Occhi senza volto e di Seddok, l'erede di Satana inquadrandola negli stereotipi del greve horror all'italiana. William Berger, nel ruolo del folle dottor Vance, si salva a stento dalla mediocrità dell'insieme.In alcune filmografie la regia è attribuita a Lionello De Felice.La pellicola è conosciuta anche con i seguenti titoli alternativi: Les nuits de l'épouvante, The Blade in the Body, The Murder Clinic, The Murder Society, Night of Terrors, Revenge of the Living Dead.