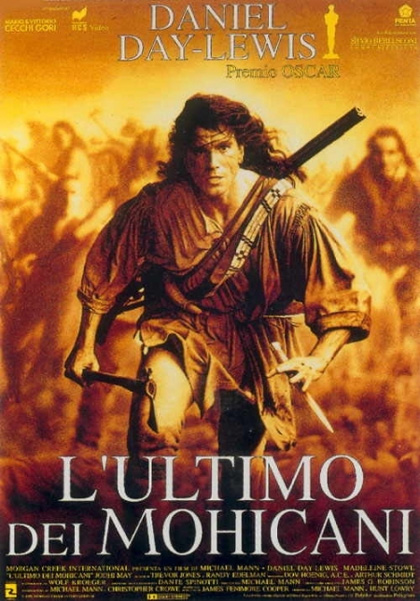 Un film di Michael Mann. Con Daniel Day-Lewis, Madeleine Stowe, Russell Means, Eric Schweig, Jodhi May. Titolo originale The Last of the Mohicans. Western, durata 130 min. – USA 1992. MYMONETRO L'ultimo dei mohicani





valutazione media: 4,02 su 51 recensioni di critica, pubblico e dizionari.
La Guerra dei sette anni è sbarcata oltre oceano. È il 1757. Le colonie americane sono terreno fertile per sangue e morti. Inglesi e francesi si contendono le terre, mentre le tribù autoctone decidono da quale parte schierarsi e a chi giurare una presunta fedeltà. Tra loro anche Nathan, nato inglese e adottato dai Mohicani, corre tra foreste e fiumi in cerca di una pacifica convivenza tra coloni e invasori. Gli equilibri verranno presto spezzati dalla crescente tensione tra le forze europee e dai labili patti che legano gli indigeni ai due schieramenti.
Tratto dal romanzo omonimo di J.F. Cooper e remake de I re dei pellerossa (1936), L'ultimo dei Mohicani è un kolossal in grande stile, epico racconto in cui l'interesse per la narrazione cede il passo all'azione. Micheal Mann procede di corsa, parte in medias res e avanza senza soste in un continuo susseguirsi di fughe e assedi. Tanto affanno e poche parentesi per il pensiero in un film dove lo spazio per l'animo dei personaggi è minimo e le azioni parlano per loro.
Questo registro espressivo pragmatico e poco dedito all'approfondimento psicologico dei caratteri è però funzionale a quel mondo selvaggio, dominato dalle armi, in cui la diplomazia si scopre arte faticosa e sterile, mentre la violenza divide facilmente il mondo in morti e vivi, vincitori e vinti. Con l'amore a fungere da unico antidoto. L'interesse principale ricade sullo scontro tra culture in cui solo l'habitat si distingue per purezza. I colonizzatori sono ingordi e non c'è più ingenuità nel popolo ospitante perché la contaminazione è già parte del Nuovo Mondo. Eppure la divisione è ancora netta, con gli invasori dediti al rispetto dei propri doveri e gli indigeni impegnati nella salvaguardia dei propri diritti.
L'opera di Mann si apprezza e si distingue soprattutto per l'affresco estetico di una Natura che funge da silenziosa testimone, sulle note di una travolgente colonna sonora capace di far respirare a pieni polmoni lo spettatore e di evocare in lui il recupero di una pace per lo spirito. Il carisma spigoloso di Daniel Day Lewis fornisce corpo e vigore ad uno dei tanti cuori impavidi del cinema epico-storico. Un eroe più coraggioso di un film che parla di sensi di appartenenza (alla terra, ai certi valori innati e alla persona amata) senza andare oltre gli argini del genere a cui appartiene.