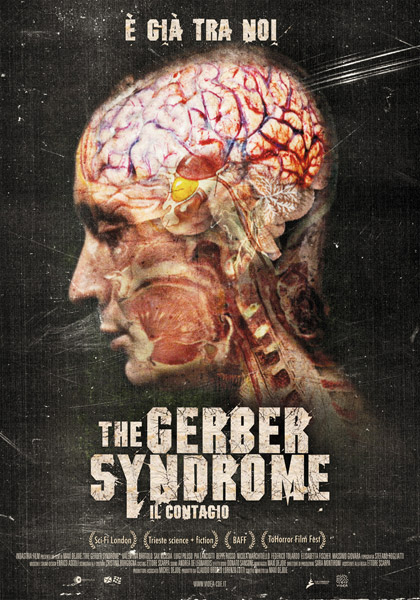 Un film di Maxi Dejoie. Con Valentina Bartolo, Elisabetta Fischer, Pia Lanciotti, Ettore Nicoletti, Nicola Marchitiello. Titolo originale The Gerber Syndrome. Horror, durata 88 min. – Italia 2011. – Videa – CDE MYMONETRO The Gerber Syndrome: Il contagio





valutazione media: 3,13 su 10 recensioni di critica, pubblico e dizionari.
Un nuovo virus tiene in scacco l'Europa. Decisamente peggiore dell'influenza aviaria e di tutte le altre pandemie che hanno allarmato le organizzazioni sanitarie mondiali, il morbo di Gerber è una malattia a metà tra un'influenza e l'Aids. Scoperto in Germania nel 2008 e ormai diffuso in tutto il mondo, si contrae entrando in contatto con sangue o saliva infetti e si manifesta con una febbre molto alta e aggressiva. Ma ben presto la sindrome di Gerber rende gli esseri umani simili a zombie. Il virus si sta diffondendo a macchia d'olio, perché gli infetti perdono il controllo e tendono a essere violenti, attaccando chiunque capiti loro a tiro. Una volta contagiati, non c'è scampo. Il terzo stadio della malattia conduce, infatti, alla morte. Ecco perché è stato istituito un centro sanitario dedicato, il CS, in cui i malati vengono messi in quarantena e allontanati definitivamente dalla società. Una troupe televisiva decide di realizzare un documentario su questo nuovo e temibile virus, seguendo il lavoro di Luigi, un ventitreenne addetto alla sicurezza, incaricato di intercettare gli infetti segnalati e portarli al CS, e quello di un medico in prima linea, il dottor Ricardi, che si sta occupando del difficile caso di Melissa, una ragazza contagiata accidentalmente.
Non è certo nuova la trovata di delineare una vicenda di finzione come se si trattasse di un evento reale. Girato nel 1965, The war game di Peter Watkins ha fatto scuola, raccontando in stile documentaristico un attacco nucleare alla Gran Bretagna. Da quel momento i mockumentary, o falsi documentari, hanno preso piede nel cinema mondiale, soprattutto statunitense, ma con esempi anche in casa nostra, basti pensare a Cannibal Holocaust di Ruggero Deodato. Nel tempo, questo genere così ibrido si è sempre più legato all'horror, come mostra il caso del film The Blair Witch Project o il rilancio recente del mockumentary a opera di Rec, che è servito da spunto a tutta una serie di saghe dell'orrore basate sull'espediente del found footage, come Paranormal Activity.
Proprio a Rec si richiama da vicino The Gerber Syndrome: Il contagio, un esperimento a metà tra un falso documentario e uno zombie movie. Niente di innovativo, quindi, se non per il fatto che a cimentarsi con questo cinema di genere sia una produzione italiana low budget, che ha avuto l'intelligenza di sfruttare le ristrettezze produttive a proprio favore. Il risultato dell'esperimento è un film dalle fattezze artigianali, girato come se si trattasse del documentario di una troupe televisiva, a cui generalmente si perdonano ingenuità e difetti di stile, fotografia, regia e montaggio, per concentrarsi piuttosto sull'impatto del racconto della realtà in presa diretta.
Il regista Maxi Dejoie, al suo esordio nel lungometraggio, gioca con questi limiti, seppur vistosi e a tratti grossolani, e si assicura così la presa e il coinvolgimento emotivo dello spettatore, che non può fare a meno di chiedersi cosa accadrebbe se il morbo di Gerber fosse reale e colpisse le persone a noi care, precipitando in un'autentica spirale di angoscia di fronte alla terribile vicenda di una famiglia come tante, nella cui vita ordinaria irrompe una malattia straordinaria, con tutta la serie di decisioni dolorose che questa comporta. Tanto più che il Dejoie sceneggiatore chiama in causa dilemmi etici di difficile risoluzione, come quelli legati alla necessità di limitare la libertà personale per tutelare la salute collettiva.
Il regista ha gioco facile nel fare leva sulle paure più irrazionali che albergano nel nostro animo, anche grazie all'interpretazione naturale degli attori, che rendono credibili e verosimili situazioni che si spera di non vivere mai. Interessanti appaiono poi le reazioni di alcuni gruppi, che rispondono alla totale mancanza di controllo provocata dal virus con feroci tentativi di farsi giustizia da soli, lanciandosi in azioni di "pulizia" che rendono sempre più labili i confini tra l'essere umano e la bestia.