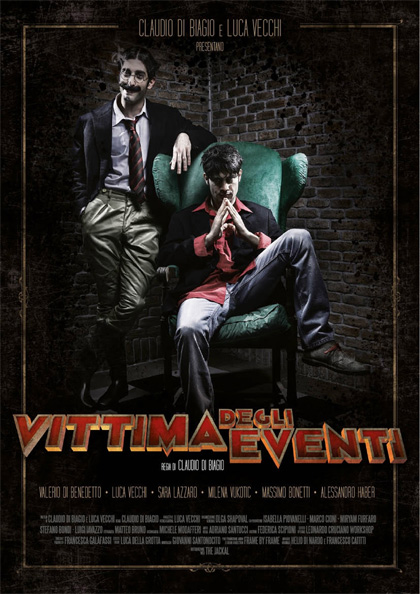 Regia di Claudio Di Biagio. Un film Da vedere 2014 con Luca Vecchi, Valerio Di Benedetto, Sara Lazzaro, Alessandro Haber, Milena Vukotic. Cast completo Genere Drammatico – Italia, 2014, durata 50 minuti. Valutazione: 3,50 Stelle, sulla base di 1 recensione.
Roma, notte. Adele passeggia col fratello fuori da Castel Sant'Angelo; i due incontrano una donna sfigurata in vestiti d'epoca, che si avvicina a lei e si strappa letteralmente la testa dal corpo. Titoli di testa. Dopo essere finita in ospedale, Adele per capirci qualcosa si rivolge a Dylan Dog e al suo sarcastico assistente Groucho. L'ombroso "indagatore dell'incubo" si appassiona al caso, e con l'aiuto del proprio «quinto senso e mezzo», di una medium (Milena Vukotic, in una citazione elegante di Bette Davis), un collezionista (Massimo Bonetti irriconoscibile in vesti da Kinski/Nosferatu) e del "vecchio" ispettore Bloch (Alessandro Haber) risolve l'enigma.
In una sospensione affascinante tra illusione e realtà, spiritismo e animismo, porte alchemiche, interni raffinati e bui (ma fotografati benissimo, da Matteo Bruno), tomi antichi, vicoli bagnati, soggettive alterate da sostanze psicotrope come la datura stramonium. Vietato aggiungere altro, e non c'è molto da dire: diretto da Claudio Di Biagio (creatore della web serie Freaks!) e scritto da Luca Vecchi (videomaker dei The Pills, anche interprete molto spiritoso di Groucho), Vittima degli eventi si rifà alla tradizione dell'horror italiano più eccessivo (da Bava ad Argento), ha scrittura credibile e ironica, scenografia e costumi impeccabili, cura dei dettagli, effetti speciali convincenti, insomma tutto ciò che vorremmo vedere e che non troviamo nel cinema e nella serialità tv italiani di oggi. Sarà forse perché la committenza è quella, via crowdfunding, della base di appassionati del fumetto bonelliano – e non di un circoletto di produttori che investono solo nella commedia corale quando non su "giovani" idioti o ruff(in)iani – ma questo è un prodotto che rispetta il proprio pubblico, sfrutta con intelligenza il potenziale gotico e orrorifico del set capitolino e lascia sospesi in un finale magrittiano di rara potenza. Il protagonista Valerio Di Benedetto è (per ora) declinato forse in direzione troppo virile e romanesca (il confronto con l'understatement di Rupert Everett è inevitabile), ma è l'unica osservazione da fare a una narrazione che cattura e intriga. Non è necessario infatti essere fan di Dylan Dog (anzi, forse Vittima degli eventi incuriosirà nuovi lettori) per apprezzare l'ottimo livello produttivo di questo strano oggetto filmico – pilot per una serie? Bozza di film pronto a diventare saga, in cerca di investitori? Mera dimostrazione che qui da noi c'è qualcuno che sa fare meglio di Kevin Munroe di Dylan Dog? Non escludiamo nessuna opzione, anche se questa del minutaggio medio ci sembra la formula migliore. Vittima degli eventi, sorprendente e godibilissimo, dal 2 novembre è visibile sul canale YT dei The Jackal. Citando l'acuto inside joke lanciato da Dylan ad Adele: «anche se ci ha trovato in Internet non vuol dire che non siamo dei professionisti».