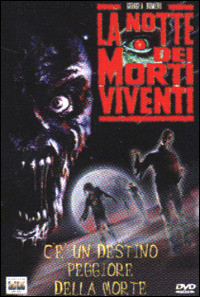 Un film di Tom Savini. Con Tony Todd, Patricia Tallman Titolo originale The Night of the Living Dead. Horror, durata 88 min. – USA 1990. MYMONETRO La notte dei morti viventi [2] 





 valutazione media: 2,57 su 9 recensioni di critica, pubblico e dizionari.
Fiacco remake del macabro e sanguinoso originale di Romero, ai tempi (1968) molto apprezzato. Questa volta i malcapitati protagonisti sono due coppie più una bambina, ma la storia è quasi la stessa. A causa di oscuri esperimenti chimici un gruppetto di truculenti zombi esce dalla tomba e comincia a braccare i protagonisti, con la solita implacabile lentezza.