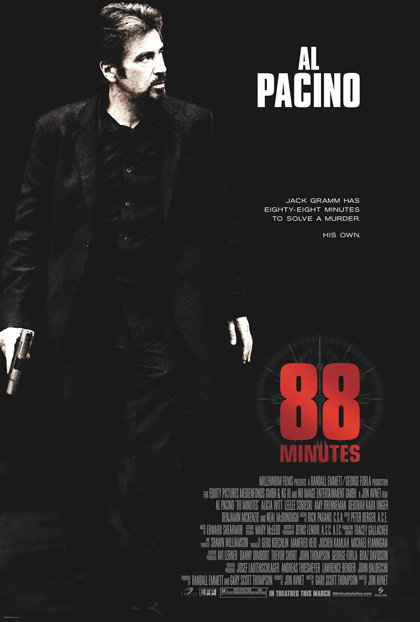 Regia di Jon Avnet. Un film con Al Pacino, Alicia Witt, Amy Brenneman, Leelee Sobieski, Benjamin McKenzie, Deborah Kara Unger. Cast completo Titolo originale: 88 Minutes. Genere Thriller – Germania, USA, 2007, durata 108 minuti. – MYmonetro 2,55 su 43 recensioni tra critica, pubblico e dizionari.
Jack Gramm è uno psichiatra forense a disposizione dell'FBI. Insegna all'Università ed è dotato di un indiscutibile fascino che attrae l'altro sesso. Ne facciamo la conoscenza proprio nei giorni in cui Jon Forster, un serial killer che lui ha contribuito in maniera determinante a far condannare a morte, sta per essere soppresso. L'uomo proclama con ancora maggiore forza la sua innocenza perché è avvenuto un delitto che ha le stesse caratteristiche di quelli a lui attribuiti. La vittima è una studentessa di Gramm il quale è convinto che si tratti di un caso di pura e semplice emulazione. Ma riceve un avvertimento da qualcuno che sembra conoscere ogni sua mossa: ha ancora 88 minuti di vita. Da quel momento ogni secondo diviene prezioso e Gramm deve cercare di capire chi, tra i giovani studenti che ne incrociano il percorso, è dalla sua parte e chi no.
Jon Avnet è noto da noi in particolare per quel gioiellino che è stato Pomodori verdi fritti alla fermata del treno. Questo film ne è distante anni luce tanto che, realizzato in una Vancouver fatta passare per Seattle ma con quotidiani che a Seattle non si vendono, l'uscita negli States è ancora vaga mentre in altre nazioni è uscito direttamente in dvd (brutto segno). Avnet, che ha sostituito alla regia James Foley, si avvale della sceneggiatura di un esperto di film d'azione come Gary Scott Thompson (The Fast and the Furious, Timecop 2)

Proprio qui sta il problema. Se in quei film la verosimiglianza e le concatenazioni narrative contano ben poco, in un thriller sono tutto. Perché altrimenti il povero spettatore comincia a chiedersi in quale dimensione parallela sia finita una vicenda in cui il killer può permettersi di scrivere sull'auto del malcapitato Gramm quanti minuti gli restano da vivere (potendo quindi prevedere con precisione assoluta in che istante lui la raggiungerà). Però, c'è un però. Ci sono attori come De Niro che fanno di tutto per buttarsi via e talvolta ci riescono. Pacino ci ha provato a sua volta ma, nonostante tutto, non ce la fa. Anche in un film come questo i suoi sguardi, le sue pause, il suo ascoltare l'interlocutore non facendo nulla ma offrendo comunque il senso dell'attenzione provano che ci sono grandi attori costituzionalmente incapaci a non essere tali. Nonostante tutto. Le due stelle sono per il film perché Al ne merita di più.