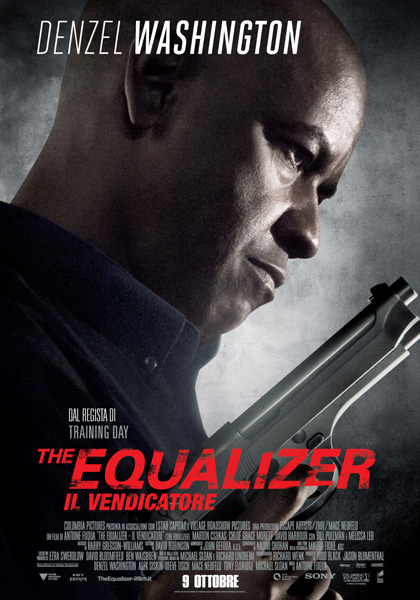 Regia di Antoine Fuqua. Un film con Denzel Washington, Marton Csokas, Chloë Grace Moretz, David Harbour, Bill Pullman. Cast completo Titolo originale: The Equalizer. Genere Azione, Thriller, – USA, 2014, durata 131 minuti. Uscita cinema giovedì 9 ottobre 2014 distribuito da Warner Bros Italia. Consigli per la visione di bambini e ragazzi: V.M. 14 – MYmonetro 2,69 su 4 recensioni tra critica, pubblico e dizionari.
Robert McCall è un ex agente della Cia che lavora come impiegato presso un supermercato del fai da te. Vive in solitudine monastica in un appartamento spoglio e ogni sera cena da solo al diner sotto casa. È lì che incontra Alina, una prostituta russa adolescente tiranneggiata dal suo magnaccia Slavi. Quando Alina finisce in ospedale per via delle botte di Slavi, Robert rispolvera il suo istinto omicida: partendo da Slavi e la sua gang risale la scala gerarchica del crimine russo, imbattendosi nello psicopatico killer Teddy e nel suo capo Vladimir Pushkin (la cui assonanza con il presidente Putin, per ammissione del regista Antoine Fuqua, non è puramente casuale).
McCall è un equalizer, ovvero uno che vuole riportare l'ordine ristabilendo l'equilibrio di giustizia laddove è stato violentemente alterato. Basato sulla serie televisiva anni Ottanta intitolata in Italia Un giustiziere a New York, The Equalizer (il cui sottotitolo Il vendicatore non rende giustizia alla natura equanime del personaggio) ha per protagonista un uomo di età prepensionabile dall'apparenza innocua (i colleghi giovani al supermercato del fai da te lo chiamano "nonno") e dalla sostanza assai pericolosa.
Denzel Washington assicura al ruolo il suo talento d'attore e la sua gravitas, evidente soprattutto nella profondità dello sguardo che diventa il centro visivo ed emozionale della storia, nonché il porto d'accesso per molti dei virtuosismi registici cui Fuqua, abilissimo dietro la cinepresa, si abbandona con gioioso entusiasmo. Purtroppo la sceneggiatura non è all'altezza delle abilità di Washington e Fuqua, team rodato dopo Training Day, né aiutano la resa del film gli eccessi di violenza grandguignolesca e di durata filmica.
Il risultato è dunque disomogeneo: da un lato grandi suggestioni visive e un protagonista fortemente carismatico, dall'altro una trama arzigogolata e ridondante e un'escalation di spargimenti di sangue ed esplosioni difficili da digerire in queste quantità industriali.