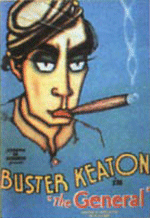 Un film di Buster Keaton, Clyde Bruckman. Con Buster Keaton, Marion Mack, Glen Cavender, Jim Farley Titolo originale The General. Muto, durata 79' min. – USA 1926. MYMONETROCome vinsi la guerra





valutazione media: 4,25 su 10 recensioni di critica, pubblico e dizionari.
Verso la fine della sua vita Buster Keaton disse che era più orgoglioso di The General (edito in Italia con il titolo di Come vinsi la guerra) "che di qualunque altro film io abbia mai fatto, perché ho portato sullo schermo, pescato dritto dal libro di storia, un fatto vero della Guerra Civile."La narrazione si basa su eventi realmente accaduti, rievocati con dovizia nel libro di William Pittenger Daring and Suffering: A History of the Great Railway Adventure, uscito nel 1863 e ristampato nel 1893 con il titolo The Great Locomotive Chase, con cui è tuttora in catalogo.