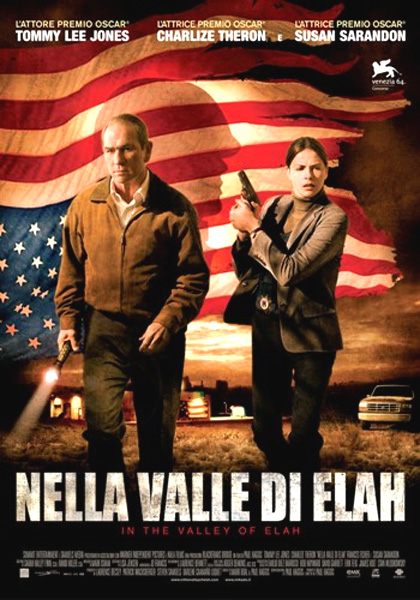 Un film di Paul Haggis. Con Tommy Lee Jones, Charlize Theron, James Franco, Susan Sarandon, Jonathan Tucker.Titolo originale In the Valley of Elah. Drammatico, durata 124 min. – USA2007. – Mikado uscita venerdì 30 novembre 2007. MYMONETRO Nella valle di Elah





valutazione media: 3,29 su 134 recensioni di critica, pubblico e dizionari.

Rientrato in licenza dall'Iraq, Mike Deerfield scompare. Aiutato solo da una poliziotta, suo padre Hank, agente della polizia militare in pensione, indaga e scopre la verità sulla sua morte orrenda e soprattutto sull'omertà dell'esercito nei confronti dei crimini commessi al fronte durante un'altra "sporca guerra". 2ª regia d'autore, dopo Crash – Contatto fisico , di uno dei più originali e politicamente impegnati sceneggiatori di Hollywood, canadese di nascita e californiano dopo i 20 anni, che fece un lungo apprendistato nella pulp fiction TV. Tra i tanti film sulla guerra in Iraq è l'unico che si svolge interamente in USA. Ha la sua forza, e i suoi limiti, in una sceneggiatura compatta e sapiente che riesce a mettere in discussione con un'analisi impietosa l'ideologia militarista e il patriottismo fanatico. Si conclude con un'immagine metaforica che si conficca nella memoria degli spettatori coinvolti: l'alzabandiera "con le stelle e strisce rovesciate di un'America che chiama aiuto, bandiera fissata con il nastro isolante perché le cose continueranno così per chissà quanto" (B. Fornara). È anche la storia di una tragica presa di coscienza, quella dell'anziano Hank, un Jones straordinario di misura e di dolore represso.