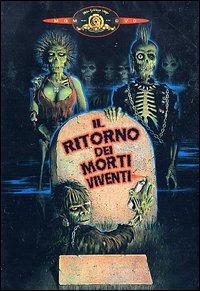 Un film di Dan O'Bannon. Con Clu Gulager, James Karen, Don Calfa, Thom Mathews, Beverly Randolph, Linnea Quigley.  Titolo originale The Return of the Living Dead.Horror, durata 85 min. – USA 1985. – VM 18 – MYMONETRO Il ritorno dei morti viventi 





 valutazione media: 2,75 su 12 recensioni di critica, pubblico e dizionari.
La Uneeda Medical Supply di Louisville conserva, per conto dell'esercito, in un magazzino top secret, misteriosi cadaveri emeticamente chiusi in speciali contenitori. Frank, il guardiano dello stabilimento, spiega al nuovo inserviente Freddie che si tratta dei corpi che anni prima ripresero temporaneamente vita a causa della terribile "diossina 204" fuoriuscita da un grosso centro industriale di Pittsburg, episodio dal quale – aggiunge – Romero trasse un celebre film… A conferma di quanto racconta, Freddie mostra al giovanotto uno dei contenitori e, per rassicurarlo che il corpo ivi racchiuso è ben protetto, vi picchia sopra: naturalmente, il contenitore si spacca e i due sono investiti da un soffio di gas che mentre li tramortisce fa risvegliare altri cadaveri. Tornati coscienti, e avvertito l'amministratore Wilson, Frank e Freddie fronteggiano uno degli zombi e, dopo averlo catturato, riescono a distruggerlo nel forno crematorio di Ernie, l'imbalsamatore tedesco che ha una ditta lì vicino. Il fuoco sembra l'unica arma per distruggere i mostri, ma le loro ceneri, passate per il camino e disperse nell'aria cadono, a causa di un improvviso acquazzone, sulle tombe di un piccolo cimitero resuscitando altri morti. Orde di zombi si riversano nei campi ed assediano il magazzino massacrando operai, infermieri e poliziotti. Wilson, dopo vari tentativi, riesce a mettersi in contatto con i comandi dell'esercito ma quando è convinto ormai di essere in salvo, una terribile esplosione si abbatte su Louisville: i militari per distruggere gli zombi hanno pensato bene di sganciare un'atomica sulla città.
Fra gli innumerevoli film nati sulla scia della Notte dei morti viventi (qui esplicitamente citato in segno di ironica filiazione e, insieme, di divertito distacco), Il ritorno dei morti viventi è uno dei più originali e immeritatamente (in Italia) sottovalutati. Il regista O'Bannon – esperto sceneggiatore che ha all'attivo due capolavori come Dark Star ed Alien – sviluppa la macabra vicenda secondo il meccanismo di un gioco al massacro, avanzando, con l'arma della satira, serie perplessità sull'efficienza dei sistemi di sicurezza americani preposti alla salute pubblica e sulla rozza strategia del potere che mentre fronteggia i danni ne provoca altri maggiori.Il pretesto fantascientifico si riallaccia, qui, al filone catastrofico delle alterazioni ambientali, convenientemente tenute segrete al grosso pubblico, provocate da illeciti esperimenti militari o scientifici. Le situazioni orrorifiche si susseguono con buon ritmo senza smorzare lo spirito goliardico che pervade la storia. Tra una carneficina e l'altra O'Bannon trova anche il tempo di mostrarci lo spogliarello della splendida Linnea Quigley, nella parte di Trash, la ragazza punk che allieta i suoi compagni durante una "festicciola" al fatidico cimitero. Originariamente progettato in 3D per la regia di Tobe Hopper.