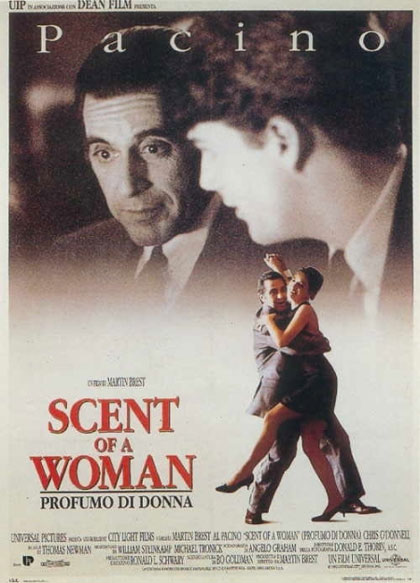 Un film di Martin Brest. Con Chris O'Donnell, Al Pacino, Gabrielle Anwar, James Rebhorn, Philip Seymour Hoffman.Titolo originale Scent of a Woman. Commedia, Ratings: Kids+16, durata 155 min. – USA 1992. MYMONETRO Scent of a Woman – Profumo di donna





valutazione media: 3,79 su 38 recensioni di critica, pubblico e dizionari.
Dopo i remakes dei film francesi ora gli americani hanno deciso di metter mano anche alle sceneggiature italiane. Questo film è infatti tratto, come l'omonimo film di Dino Risi, da Il buio e il miele di Giovanni Arpino. Solo che l'ambiente è New York. Frank Slade, tenente colonnello, si fa scortare da un giovane studente nei guai col proprio preside. Un po' burbero e un po' insofferente l'uomo è deciso a finire in bellezza la propria vita. Così ha scelto Manhattan per ubriacarsi di follie prima del suicidio. E se nel film di Risi è l'amore che gli fa cambiare idea, qui è il senso di protezione per il ragazzo, che difende davanti al preside del college. Grande interpretazione di Pacino, anche se piuttosto marcata, premiato con l'Oscar. Doppiato da Giancarlo Giannini. Martin Brest, già regista di Un piedipiatti a Beverly Hills, è invece piuttosto manierato.