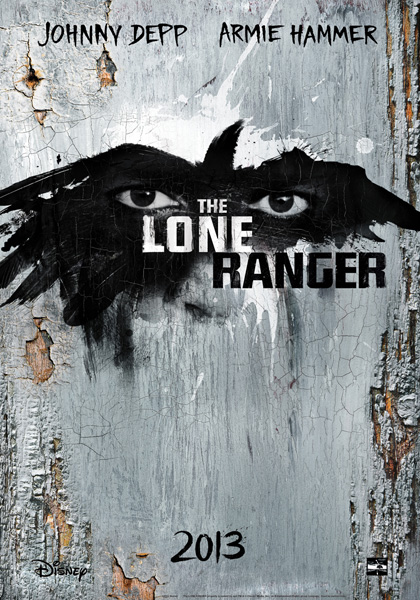 Un film di Gore Verbinski. Con Armie Hammer, Johnny Depp, Ruth Wilson, Tom Wilkinson, Helena Bonham Carter. Titolo originale The Lone Ranger. Avventura, durata 135 min. – USA 2013. – Walt Disney uscita mercoledì 3 luglio 2013. MYMONETRO The Lone Ranger





valutazione media: 3,05 su 51 recensioni di critica, pubblico e dizionari.
John Reid è un uomo di legge, educato in città e tornato nel vecchio west per consegnare alla giustizia il pluricriminale Butch Cavendish. Durante la spedizione, però, un'imboscata uccide suo fratello, il Texas Ranger Dan Reid, e gli altri uomini della compagnia. John viene salvato da Tonto, un indiano, e da un cavallo bianco. I tre diverranno inseparabili.
Come inseparabili, nel contribuire alla nascita di questo esoso progetto cinematografico, sono stati Bruckheimer, Verbinski e Jhonny Depp: produttore, regista e interprete dei Pirati dei Caraibi. Ma, se è innegabile che lo stile sia quello (anche gli sceneggiatori sono gli stessi), in The Lone Ranger le derive più fracassone degli ultimi capitoli dei bucanieri restano fuori dai giochi e anche il personaggio di Depp gigioneggia di meno e non si avventura in parentesi solipsistiche ma serve il racconto, né più né meno del dovuto, quanto basta per dare a Tonto la dignità di partner alla pari del ranger, non più sua semplice spalla.
La coppia formata dal Cavaliere Solitario e da Tonto nasce all'inizio degli anni Trenta alla radio, per trasferirsi poi in televisione, sui fumetti e nei cartoni animati, accumulando una popolarità enorme. Verbinski e compagnia scrivono per immagini la storia di come John è arrivato a indossare la maschera, ma anche la genesi dell'avventura di Tonto, il come e perché si è allontanato dalla comunità ed è diventato un guerriero solitario. La struttura narrativa è sofisticata ma né complessa né ridondante e serve a tingere di leggenda ma soprattutto di nostalgia il racconto interno, la stessa nostalgia che il pubblico adulto associa inevitabilmente al titolo.
Più che ai Pirati, rispetto ai quali questo film si pone in continuità, prolungando il sapore del gioco infantile, è soprattutto a Rango che viene immediato (ri)guardare: non solo per l'ambientazione polverosa ma per la parabola del protagonista -eroe per caso, poi "smascherato" con dileggio e, infine, eroe per merito- e soprattutto per l'impianto narrativo (con il politico corrotto al centro della vicenda doppiogiochista).
Indiani e cowboy, ponti ferroviari e dinamite, bordelli e mitragliatrici, miniere d'argento e gambe d'avorio: al grande gioco del west non manca un tassello, il gusto dunque c'è, ma l'entusiasmo è moderato e a tratti lotta con la stanchezza. La fanfara rossiniana del Guglielmo Tell, sinonimo di libertà, assicura un finalone ma cozza con la sorte del vecchio Tonto, ridotto ad attrazione da museo, imprigionato nei pochi metri quadri di un'ambientazione ricostruita e posticcia. Il grande spettacolo del cinema classico non andrebbe lasciato alla polvere della cineteca, sembra dire Verbinski, se basta lo sguardo di un bambino a riportarlo in vita.