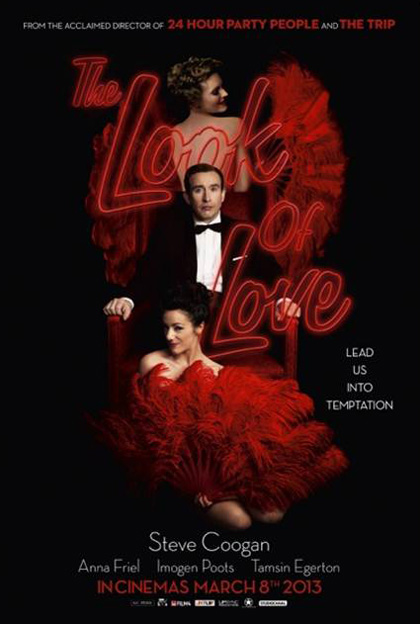 Regia di Michael Winterbottom. Un film con Steve Coogan, Anna Friel, Imogen Poots, Tamsin Egerton, Vera Graziadei, Matt Lucas. Cast completo Titolo originale: The Look of Love. Genere Commedia – Gran Bretagna, 2013, Valutazione: 3,00 Stelle, sulla base di 2 recensioni.
Paul Raymond alla fine degli anni '50 apre il Raymond Revue Bar a Soho e il mensile Men Only. Inizia così la carriera di colui che diventerà uno degli uomini più ricchi della Gran Bretagna grazie al sesso. Le accuse di produrre pronografia lo scalfiranno senz amai distruggerlo. Ciò che sarà invece più difficile da gestire sarà il rapporto con la moglie Jean, l'amante Fiona e la figlia Debbie.
Ci sono diversi brani di Burt Bacharach in questo film. Le musiche più soft accompagnano la storia di uno dei re dell'hard. La scelta di Winterbottom, che lavora per la quarta volta con Steve Coogan, non è priva di motivazioni. Perché, mentre ci racconta l'ascesa di un provinciale (che si vantava di non aver mai letto un libro) nella Swinging London, la sceneggiatura non si limita a tracciare un ritratto il più possibile filologicamente corretto di quegli anni (ivi compresa la lampada disegnata da Ringo Starr che fa mostra di sé nell'appartamento di Paul) ma va oltre.