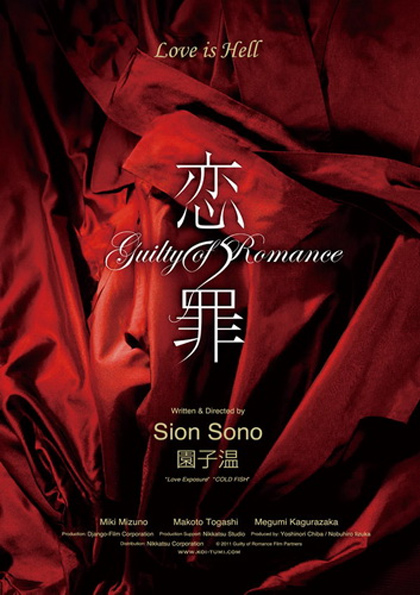 Un film di Sion Sono. Con Megumi Kagurazaka, Makoto Togashi, Miki Mizuno, Kanji Tsuda, Ryo Iwamatsu. Titolo originale Koi No Tsumi. Drammatico, durata 143 min. – Giappone 2011. – VM 18 – MYMONETRO Guilty of Romance





valutazione media: 3,50 su 2 recensioni di critica, pubblico e dizionari.
Nel quartiere dei love hotel di Tokyo, vengono rinvenuti due corpi. Indagando sulle persone scomparse, la detective Kazuko Yoshida si sofferma su due donne: Izumi, moglie impeccabile di un affermato scrittore e Mitsuko, docente di Letteratura all'università.
Ancora una volta Son Siono racconta l'atroce ambiguità della condizione umana nel Giappone contemporaneo, il disagio di un'intera società e la ricerca di un'impossibile catarsi, l'isolamento e la solitudine che si esprimono nella fuga nella prostituzione. Come in Suicide Club (2001), In Noriko's Dinner Table (2005) in Love Exposure (2008) o nel più recente Cold Fish, la risposta all'alienazione è sempre paradossale.
Guilty of Romance sfodera da subito i toni dell'incubo con una brutale ferocia. Percorsi alieni, oscuri e deformi si generano nel seno di un Paese in cui accade troppo poco, in una società che prevede che tutto sia precostituito dall'inizio. Il Giappone è il sepolcro imbiancato suggellato dall'algida espressione della testa di un manichino che al suo interno marcisce e pullula di vermi; uno Stato che ha ingessato la parola e mutilato l'azione. Il castello agognato, ripetuta citazione kafkiana, rimane distante e inaccessibile. La ricerca di un senso sfocia nella negazione di un senso, non vi è percorso né volontà di cammino, poiché non esiste una destinazione.
« Red White & Blue – dvdrip eng subita Porco Rosso – Kurenai no Buta – bdrip 1080p h264 ita/jap subita/jap »