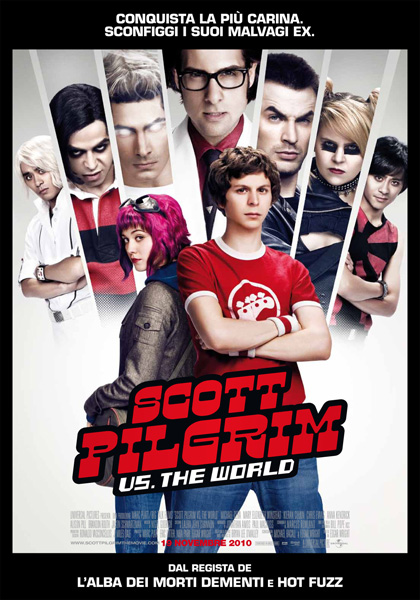 Un film di Edgar Wright. Con Michael Cera, Mary Elizabeth Winstead, Kieran Culkin, Chris Evans, Anna Kendrick. Azione, durata 112 min. – USA, Canada, Gran Bretagna 2010. – Universal Pictures uscita venerdì 19 novembre 2010. MYMONETRO Scott Pilgrim vs. The World





valutazione media: 3,50 su 44 recensioni di critica, pubblico e dizionari.
Scott Pilgrim è un 23enne ancora preda di una forma di tardiva adolescenza sentimentale. Suona il basso in una band indie rock, come tutti quelli della sua generazione ha subito una severa formazione a base di videogiochi 8bit e cerca una storia d'amore "sicura" con una 17enne, esercitando nichilismo un tanto al chilo. Quando nella sua vita irrompe Ramona, newyorkese, bellissima, indie nell'animo e ribelle a modo proprio con capelli colorati, tutto passa in secondo piano, anche il piccolo particolare che, per poter davvero avere una relazione con lei, Scott dovrà combattere e soprattutto sconfiggere i suoi 7 ex, riuniti in una confraternita finalizzata ad indirizzare la vita futura della ragazza da loro (un tempo) amata.
L'attesa trasposizione della serie di 6 volumi a fumetti del canadese Brian Lee O'Malley (intitolata semplicemente "Scott Pilgrim") dopo 7 anni di successo di nicchia arriva al cinema e non delude, anzi. La versione per il grande schermo delle avventure tra realtà e videogioco del 23enne di Toronto è uno degli atti cinematografici più violenti degli ultimi anni. E per una volta la violenza della grammatica filmica fa il paio con l'audacia di una storia che utilizza la felicissima vena ironica per prendere di mira, in primis, il protagonista e tutto il suo universo di riferimento, che poi è il medesimo del target cui il film è indirizzato. Sebbene infatti nella storia il geek, alle prese con le solite difficoltà di sentimentale subita invece che dominata, sia palesemente contrapposto ai più classici "vincenti" della cultura anglosassone, la vera ironia è nei confronti del primo e non tanto dei secondi. In parole povere Scott Pilgrim vs the World non accarezza l'ego del proprio pubblico ma lo fustiga, prima favorendo l'immedesimazione grazie ad un'aderenza totale ad un certo universo semantico generazionale e poi esplicitandone le contraddizioni. Esattamente ciò che il profluvio di film adolescenziali nostrani sembrano metodicamente rifiutarsi di fare.
Ma non è solo una questione di tono del racconto (che ad ogni modo appartiene più al testo originale), il trionfo di Scott Pilgrim vs. the World è soprattutto merito di Edgar Wright, regista che finalmente sta passando dall'adolescenza cinematografica all'età adulta. Ne è testimonianza il modo in cui ha tramutato le splendide intuizioni registiche mostrate in L'alba dei morti dementi e Hot Fuzz (film-manifesto di un modo diverso di intendere la parodia) da espedienti comici in idee utili ad un avanzamento e una personalizzazione del linguaggio filmico che sia funzionale alla storia. Il montaggio "a strappo", che giustappone con forza momenti temporalmente e spazialmente diversi, i rapidissimi "carrelli digitali" che congiungono scene unite unicamente dal loro passaggio logico e il continuo uso di una colonna audio che si prende beffa della diegesi, diventano qui gli strumenti di un'inedita unione tra cinema e fumetto.
Nonostante Scott Pilgrim (il fumetto) fosse caratterizzato come una storia raccontata attingendo pesantemente alla simbologia videoludica (continuamente il protagonista si trova in situazioni "da videogioco" alle prese con dinamiche, premi e problemi tipici di quel mondo), Scott Pilgrim (il film) sembra più un tentativo di ibridazione con il modo di raccontare fumettistico. Certo non mancano tutti i riferimenti, le sovraimpressioni e le gag inerenti al mondo dei videogiochi 8bit che avevano contribuito al successo della serie a fumetti, tuttavia è nell'uso abbondante degli stacchi in asse (quando il montaggio taglia da una scena ad un'altra completamente diversa, mantenendo invariata la composizione dell'inquadratura) che Wright sembra trovare lo stile del suo film. Il regista inglese infatti comprende bene come il montaggio sia lo specifico del racconto filmico e accosta i suoi frame nello stesso modo in cui si accostano i frame di una tavola disegnata, trovando una versione cinematografica del feeling del fumetto nel modo in cui quel medium racconta le storie sfruttando le ellissi spaziotemporali.
« Oslo, 31. august – Oslo, August 31st – dvdrip norv subita/eng Yellow Submarine – Il Sottomarino giallo – bdrip 720p ita/eng subita »