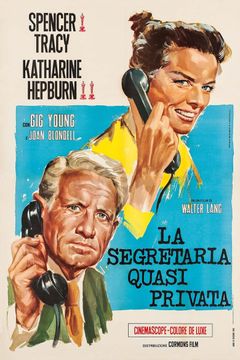 Un film di Walter Lang. Con Joan Blondell, Katharine Hepburn, Gig Young, Spencer Tracy, Dina Merrill Titolo originale The Desk Set. Commedia, Ratings: Kids+16, durata 103′ min. – USA 1957. MYMONETRO La segretaria quasi privata





valutazione media: 3,00 su 4 recensioni di critica, pubblico e dizionari.
Alla Federal Broadcasting Corporation c'è un ufficio "quesiti", diretto da Bunny Watson dalla memoria imbattibile. Incaricato dal presidente della rete tv arriva Sumner, col compito di insegnare come si usa un computer. Si sparge il panico: licenziamenti in vista? Scritto da Phoebe e Henry Ephron, da una commedia (1955) di William Marchant, è il 1° film di Hollywood che ha al centro un computer; il 1° film in Technicolor e Cinemascope (Leon Shamroy) della coppia Tracy-Hepburn e l'8° dei 9 che hanno interpretato insieme; il 1° prodotto dalla Fox invece che dalla M-G-M. Con G. Young di supporto, Tracy e la Hepburn fanno scintille. Distribuito in Inghilterra come The Other Woman.
« Man with no Name – dvdrip La Venere peccatrice – The Strange Woman – hdtvrip eng subita »