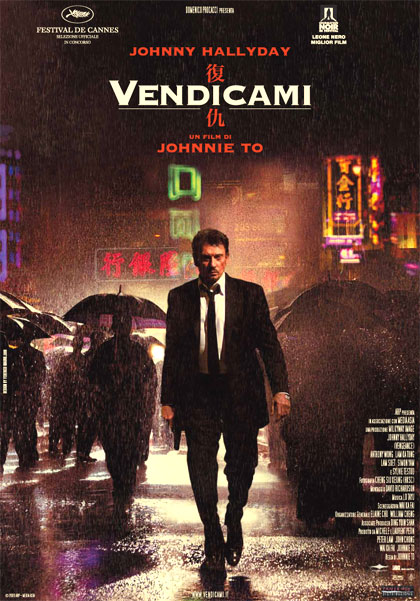 Regia di Johnnie To. Un film Da vedere 2009 con Johnny Hallyday, Sylvie Testud, Anthony Wong Chau-Sang, Lam Ka Tung, Lam Suet. Cast completoTitolo originale: Fuk sau. Genere Azione – Hong Kong, Francia, 2009, durata 108 minuti. Uscita cinema venerdì 30 aprile 2010 distribuito da Fandango. Consigli per la visione di bambini e ragazzi: V.M. 14 – MYmonetro 3,25 su 38 recensioni tra critica, pubblico e dizionari.
Una donna, un uomo, due bambini. Lei di origine francese, lui cinese. All'improvviso la morte che entra in casa per mano di sicari che compiono una strage. Solo la donna si salva. Suo padre, Costello, raggiunge l'Estremo Oriente con un proposito preciso: vendicare la morte del genero e dei nipoti. Per farlo ingaggia tre killer che ha scoperto in azione mentre eliminavano l'amante infedele di un boss della malavita.. Con il loro aiuto cercherà di portare a compimento la missione che si è prefisso. Johnnie To si è finalmente (e speriamo definitivamente) scrollato di dosso i vincoli narrativi che almeno fino ad Election ne avevano in qualche misura ostacolato la genialità visiva. Sembrava cioè che il regista si sentisse in dovere di giustificare da un punto di vista sociologico l'agire dei suoi personaggi preoccupandosi quindi oltre misura del contesto. Intendiamoci: oltre misura per un regista come lui assolutamente in grado di intervenire sui generi interpolandoli con lo scopo di andare 'oltre' la verosimiglianza per puntare dritto al piacere della visione.
Qui, a partire dall'esplicito omaggio a Melville sottolineato nel cognome del protagonista, è un susseguirsi di luoghi del cinema pronti a sottoporsi a reinvenzione. Se dispiace che il 'samurai' melvilliano Delon abbia rifiutato il ruolo di protagonista il dispiacere è di breve durata perchè Johnny Hallyday è praticamente perfetto nei panni del vendicatore che pronuncia le battute più improbabili con la stessa determinazione con cui reciterebbe Shakespeare. Con un interprete così To è libero di giocare con le immagini (indimenticabile lo scontro con i contendenti che si proteggono con inusuali barriere individuali) raggiungendo un livello di astrazione che fonde magistralmente cinefilia e spettacolo.
« Life Without Principle – Dyut meng gam – dvdrip cin subeng/cin Scusate il Ritardo – dvdrip ita subita »