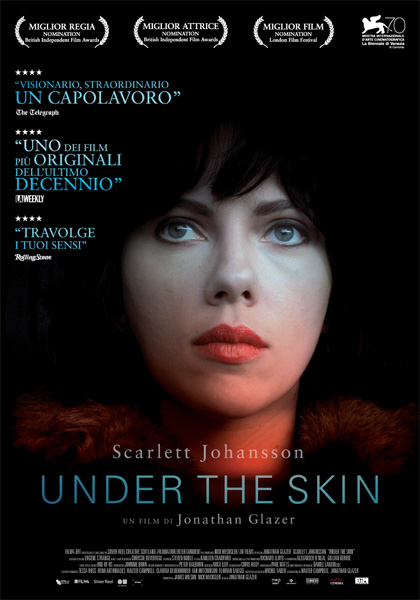 Un film di Jonathan Glazer. Con Scarlett Johansson, Antonia Campbell-Hughes, Paul Brannigan, Krystof Hadek, Robert J. Goodwin. Fantascienza, durata 107 min. – USA, Gran Bretagna 2013. – Bim uscita giovedì 28 agosto 2014. MYMONETRO Under the Skin





valutazione media: 2,83 su 22 recensioni di critica, pubblico e dizionari.
Il corpo di una donna viene recuperato da un misterioso motociclista fuori strada e trascinato su un camion, dove un'aliena, con le medesime sembianze della malcapitata, ne indossa letteralmente le vesti. L'aliena intraprende quindi un viaggio attraverso la Scozia, sfruttando il proprio fisico seducente per adescare uomini soli e non restituirli mai più alle loro vite.
Glazer va dritto al centro del romanzo di Michel Faber, rinunciando ad ogni conoscenza o informazione preparatoria per occuparsi solo e soltanto del viaggio della protagonista e costruire così un on the road visionario, teso ad immaginare barlumi di altre dimensioni ma anche e soprattutto a guardare il nostro mondo con un occhio altro.
Tre versioni del copione e un periodo di fermo potevano insospettire e ora appare evidente che l'incertezza era e resta legittima. Spogliato del contesto fantascientifico e ridotto quasi al silenzio, il film non guadagna a sufficienza in atmosfera da compensare le perdite in materia di psicologia e possibilità di identificarsi con il personaggio. Quest'ultima, poi, è una scomparsa non da poco, perché è proprio sull'ambiguità del discorso identitario che si gioca la partita: chi sia la vittima e chi il carnefice, è la domanda più che esplicita che il regista gira allo spettatore. Tornano, dunque, le sovrapposizioni e i doppi ingannatori di Birth, ma sparisce completamente il sentimento che ci avvicinava e turbava in quell'occasione. Là, infatti, dove Nicole Kidman ci straziava silenziosamente nel suo esser pronta ad apparire un'aliena e ad affrontare la solitudine pur di credere all'amore, con un ribaltamento narrativo che trascina però con sé anche un senso più profondo, Scarlett Johansson è qui inizialmente insensibile al dolore così come al piacere per poi sperimentare l'emergenza di una sorta di curiosità, di desiderio di un contatto, di saggiare un gusto, che la conduce rapidamente (e ideologicamente) alla rovina.
Il confronto insistito sullo spazio visionario ed estetizzante ma in verità crudele e annientatore proprio della dimensione aliena e quello più aspro, squallido e violento delle Highlands e, per estensione, dell'umanità (abitato però dalla comicità televisiva e riscaldato qualche volta dal rifugio domestico) è tutto quello che Glazer decide di dire e mostrare, ma la sensazione è che sia un discorso povero e riduttivo, che ci lascia insensibili e alieni al destino della protagonista.
« Scappa – Get Out – dvdrip ita/eng subita Morto Troisi, viva Troisi – webrip ita »