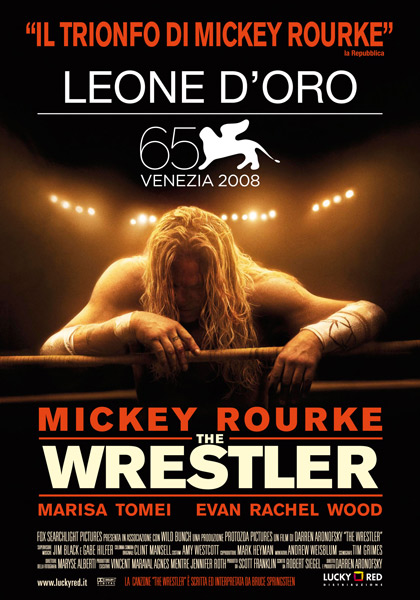 Un film di Darren Aronofsky. Con Mickey Rourke, Marisa Tomei, Evan Rachel Wood, Mark Margolis, Todd Barry. Drammatico, durata 109 min. – USA, Francia 2008. – Lucky Red uscita venerdì 6 marzo 2009. MYMONETRO The Wrestler





valutazione media: 3,73 su 202 recensioni di critica, pubblico e dizionari.
Negli anni '80 Randy "The Ram" Robinson era un eroe del pro wrestling all'apice della carriera. L'incontro con il rivale Ayatollah, sconfitto il 6 aprile 1989, sarebbe rimasto per sempre nella storia dello spettacolare sport. Tuttavia, venti anni dopo "l'ariete" porta sul corpo i segni della lotta. Appesantito e decaduto, lavora part time in un grande magazzino e pratica il wrestling nelle palestre dei licei, ogni fine settimana, per la gioia dei (pochi) fan che gli sono rimasti.
Il fallimento e la distruzione fisica sono temi che Darren Aronofsky aveva già esplorato in passato ma nel narrare la ballata del lottatore errante, trova il modo per estenderli a una sfera più ampia. Il personaggio di The Ram (interpretato da un Mickey Rourke in stato di grazia) rappresenta infatti l'essenza stessa del fallimento.
« Vikings – Stagioni da 1 a 6 – bdrip 720p h264 ita/eng subita/eng Alessandro il Grande – bdrip 1080p h265 eng subita/eng + dvdrip ita »