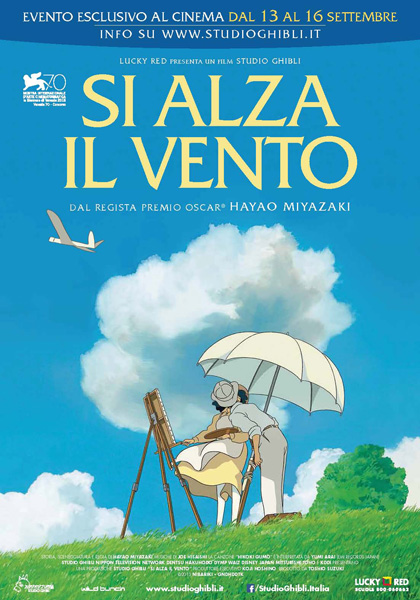 Un film di Hayao Miyazaki. Con Hideaki Anno, Jun Kunimura, Mirai Shida, Shinobu Ohtake, Hidetoshi Nishijima. Titolo originale Kaze Tachinu. Animazione, durata 126 min. – Giappone 2013. – Lucky Red uscita sabato 13 settembre 2014. MYMONETRO Si alza il vento





valutazione media: 3,94 su 28 recensioni di critica, pubblico e dizionari.
Jiro Horikoshi, si presenta al pubblico in sogno, a bordo di un aereo di fantasia in un idillio minacciato da un bombardiere, è un ragazzo con la passione degli aeroplani che nelle sue proiezioni oniriche incontra il proprio idolo, il conte Caproni, grande progettista italiano, a cui confida di voler diventare anch'egli progettista. Durante l'università assisterà al terribile terremoto del '22 e poi troverà lavoro alla Mitsubishi. Studiando la più avanzata tecnologia tedesca cercherà di mettere a punto qualcosa di ancora più innovativo, in grado non solo di colmare il gap che separa il Giappone dagli altri paesi ma anche di superarli. In questi viaggi incontrerà l'amore della sua vita, la donna che lo accompagnerà nel processo creativo.
Nonostante siano evidenti i temi che da sempre dominano il suo cinema è una trama insolita, impegnativa e coraggiosissima quella che Hayao Miyazaki imbastisce nel suo decimo lungometraggio, un biopic sul grande progettista di aerei che diede vita ai rivoluzionari modelli Mitsubishi A6M Zero, tristemente noti per essere stati utilizzati dai kamikaze durante la seconda guerra mondiale. Un film il cui linguaggio e la cui grammatica audiovisiva ricordano più la messa in scena dal vivo che quella animata.
Le contraddizioni non sono certo una novità nel cinema del regista che ha superato il concetto di buono e cattivo, che ama i motori ma è un fervente ecologista e che adora gli aerei da guerra pur inneggiando alla pace, ma stavolta le affronta di petto. The Wind Rises mostra che le contraddizioni non sono barriere ed è possibile al tempo stesso amare e odiare. La sua forza è farlo senza usare le parole ma con la forma di uno straordinario cartone di due ore, un film-fiume che racconta attraverso un uomo l'epica di una nazione e del suo spirito, la sua dignità, la sua etica del lavoro, in un tour de force che segna il ritorno del maestro a una produzione per nulla pigra o ripiegata sui soliti topoi, lontana dai grandi capolavori del passato e audace.
C'è un'evidente identificazione tra il progettista di aerei e il disegnatore, il creatore di macchine e il creatore di sogni, un binomio che in Miyazaki, figlio di un ingegnere aereo, è particolarmente forte (spesso nei suoi cartoni vediamo meccanismi o veicoli volanti da lui inventati) e che trova momenti di rara bellezza nel sogno di Jiro e del conte Caproni (avendo le stesse aspirazioni i due si incontrano sempre nei medesimi sogni) ma forse anche dell'autore, di poter camminare liberamente sugli aerei mentre sono in volo. Jiro Horikoshi, è probabilmente il miglior personaggio maschile mai scritto dal regista, e non a caso appare come un alter ego di Miyazaki (a doppiarlo in originale è Hideaki Anno, l'autore di Neon Genesis Evangelion), amante del volo ma schifato dalla guerra, sostenitore del fatto che gli aerei non debbano avere mitragliatrici ma autore dei modelli poi affidati ai kamikaze, un uomo che sogna un bombardiere caricato con famiglie invece che armi.
Eppure è quando nella seconda parte The Wind Rises scivola dolcemente nel melò che il maestro dà il meglio, con una storia d'amore lieve e commovente come suo solito ma anche più matura che in passato (per la prima volta si vede un bacio francese e addirittura si suggerisce un atto sessuale). Quando la linea sentimentale accelera, tutto il film sembra volare ancora più in alto, specie nella maniera in cui la realtà è trasfigurata dalle visioni di Jiro, l'espediente con il quale Miyazaki sceglie di raccontare il processo creativo attraverso il sogno, il crescere di un'idea alimentata dalla passione, un misto di abnegazione e fantasia, intuizione e fatica.
Miyazaki torna a descrivere le emozioni più elevate, a raccontare lo splendore di essere vivi in questo pianeta, unito all'esigenza di continuare a vivere nonostante tutto (alla fine in un trionfo di linguaggio filmico non ci sarà nemmeno bisogno di dirlo basterà l'alzarsi del vento a scatenare l'emozione nel pubblico), utilizzando uno stile che rifiuta il tratto grosso e si ostina a dimostrare come si possano toccare le corde più profonde e stimolare gli stordimenti emotivi più vertiginosi attraverso lo stile più delicato e sottile possibile.