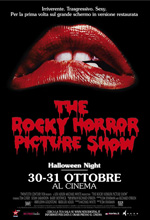 Un film di Jim Sharman. Con Susan Sarandon, Tim Curry, Barry Bostwick, Richard O'Brien, Meat Loaf.Musicale, durata 95 min. – USA, Gran Bretagna 1975. – Nexo Digital uscita martedì 30ottobre 2012. – VM 14 – MYMONETRO The Rocky Horror Picture Show





valutazione media: 4,07 su 44 recensioni di critica, pubblico e dizionari.
In una notte buia e tempestosa i promessi sposi Brad e Janet, due ragazzi bene della provincia nordamericana, si perdono in un bosco con l'auto in panne e decidono di cercare aiuto presso l'abitazione più vicina, un castello dall'aspetto affatto rassicurante in procinto di ospitare l'Annuale Convegno Transilvano. Una volta dentro, finiscono per diventare ostaggi dell'ambiguo Frank-N-Furter (e del suo stravagante entourage) e scoprono che il dolce travestito è alle prese con un esperimento: dare la vita al bellissimo e muscoloso Rocky Horror per convertirlo nel suo personale giocattolo del sesso.
Correva l'anno 1975 quando il regista Jim Sharman e il compositore, sceneggiatore, cantante e attore Richard O'Brien davano alla luce del proiettore la versione cinematografica del musical britannico The Rocky Horror Show, che avevano presentato con successo a teatro. Partito male al botteghino, il film diviene presto un cult raccogliendo negli anni consensi e un pubblico di veri e propri idolatri che si sarebbero riuniti regolarmente in piccoli cinema per ricreare le scene – trucco e parrucco incluso – durante la proiezione.
« 12 Anni Schiavo – 12 Years a Slave – bdrip 1080p h265 ita/eng subita/eng La Notte – bdrip 1080p h265 ita subeng »