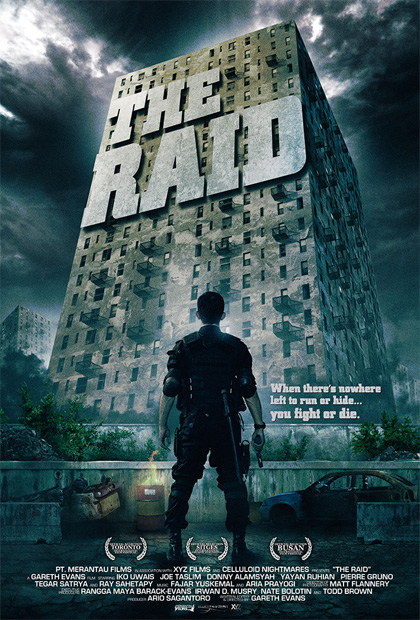 Un film di Gareth Evans. Con Iko Uwais, Doni Alamsyah, Ananda George, Yayan Ruhian, Ray Sahetapy. Titolo originale Serbuan maut. Azione, durata 100 min. – Indonesia, USA 2011. – Movies Inspired MYMONETRO The Raid: Redemption





valutazione media: 3,67 su 10 recensioni di critica, pubblico e dizionari.
Una squadra speciale della polizia prende d'assalto il condominio-fortezza di un signore della droga, anche se si rende conto ben presto di essere attesa dai criminali. E l'accoglienza non è delle migliori.
Regista gallese (di nascita), ma l'Europa e la sua antica e obsoleta concezione di action finisce lì. Gareth Huw Evans va in Indonesia, come Brian Yuzna prima di lui, in cerca di manodopera a basso costo e voglia sincera di cinema di genere, per confezionare un exploitation "bestiale", nel miglior senso che si possa attribuire al termine. The Raid – la traduzione letterale del titolo indonesiano è Death Invasion – non è solo una scarica di piombo e sangue dall'elettroencefalogramma rigorosamente piatto, è un prodigioso compendio di quel che un B-movie post-tutto dovrebbe essere. Con lo spirito che albergava nelle grindhouse di tarantiniana memoria, lo scontro cruento tra poliziotti (buoni) e narcotrafficanti (cattivi) offre al suo pubblico di riferimento tutto quel che si può desiderare, attraverso ingenti dosi di arti marziali che sorpassano a destra l'ipercinetica di Ong Bak 2. Ma dove Jaa si fermava alla perfezione del gesto, dimenticando totalmente i cardini della narrazione, Evans costruisce un'opera che ha il solo, umile, intento di tenere incollato lo spettatore davanti allo schermo. Iko Uwais ribadisce quanto ammirato in Merantau, debutto di Evans, e si propone come un nuovo prodigio della tecnica, mescolando nel suo silat – stile di arti marziali interamente indonesiano – il muay thai di Tony Jaa con colpi di estrazione eterogenea: minimo il ricorso della regia a espedienti di montaggio e ralenti. Atmosfera (molto) vagamente carpenteriana e struttura da videogame, con "mostri di fine livello" d'ordinanza e ambientazioni al servizio di duelli di qualità crescente.
Che si assista in sala o dal divano di casa alle prodezze di guardie e ladri indonesiane, è come se l'"ohh" di meraviglia o le grasse e disdicevoli risate di chi esulta per crani fracassati, frigoriferi esplosivi e machete impazziti fossero annessi in maniera inestricabile al film di Evans. Merito delle coreografie di Yayan Ruhian, che si riserva il ruolo di super-villain che accetta di sfidare lealmente, persino in inferiorità numerica, i super-poliziotti, riducendoli perlopiù a polpette. Come a suo tempo per lo storico Born to Fight tailandese, The Raid è il nuovo termine di paragone per l'action movie indonesiano e non solo, caposaldo di un cinema di stuntmen che non si vergogna di elencare innumerevoli massaggiatori e fisioterapisti nei titoli di coda.
« Temple Grandin – dvdrip ita Walt Disney Treasures – Semplicemente… Paperino! Volume 1 e 2 – 1934-1946 – dvdrip ita/eng »