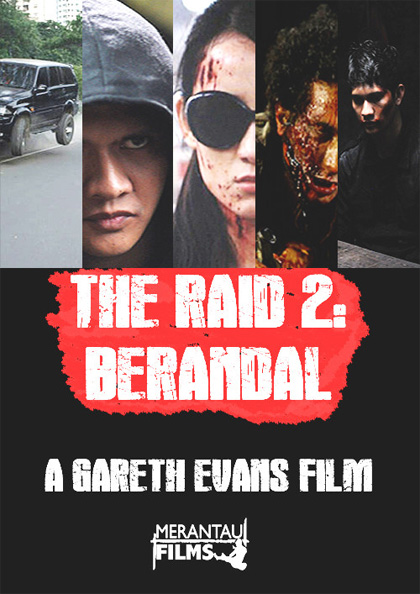 Un film di Gareth Evans. Con Iko Uwais, Julie Estelle, Alex Abbad, Marsha Timothy, Mathias Muchus. Titolo originale Berandal. Azione, durata 148 min. – Indonesia 2013. MYMONETRO The Raid 2 – Berandal





valutazione media: 4,33 su 7 recensioni di critica, pubblico e dizionari.
Dopo aver sgominato una gang e aver attirato le attenzioni della mala indonesiana, Rama è costretto a cambiare identità: dovrà trascorrere un periodo in carcere per infiltrarsi nell'organizzazione di Bangun e dell'ambizioso figlio Uco e rompere la ragnatela di corruzione estesa come un virus in tutta Djakarta.
Dopo aver sconvolto il mondo del cinema di genere con The Raid: Redemption ripetersi, anzi superarsi, pareva un compito arduo per Gareth Evans. Il gallese emigrato in Indonesia ha scelto quindi di non affrontare il medesimo schema del predecessore e prestare il fianco a paragoni scomodi, ma di costruire un action movie radicalmente differente per struttura, nonché unico per dimensioni e ambizioni. Dove The Raid: Redemption era la cronaca a colpi di arti marziali di una battaglia tra guardie e ladri svolta nell'arco narrativo di ventiquattro ore, il sequel parte da quella conclusione ma spazia su diversi anni della vita di Rama, raccontando la sua caduta negli inferi della malavita e la sua difficoltosa risalita assetata di vendetta e di giustizia. I tempi si dilatano quasi inevitabilmente, specie in una prima parte tesa a (ri)costruire il background dei personaggi e a preparare la tensione per l'escalation finale: che è progressiva, non improvvisa, ed evita fino all'epilogo il pattern marziale più consueto dell'eroe che affronta in sequenza villain di abilità crescente.
Le sequenze di lotta cercano ambientazioni nuove – il carcere e la lotta nel fango immortalata dall'alto – o si servono di elementi spurii – armi da fuoco o da taglio – per preservare al meglio la purezza del gesto marziale in vista dello showdown, la resa dei conti, in cui il cinema action raggiunge forse il suo apice contemporaneo. È difficile, se non impossibile, chiedere di più in termini di spettacolo a un cinema che sfrutta al massimo il potenziale di campioni di silat e stuntmen temerari, di un budget che consenta riprese ardite e impensabili – la sequenza di lotta nell'automobile, oltre qualunque legge della cinetica – e di un'inventiva che riesca a caratterizzare ogni singolo villain, ogni singolo duello, dal virtuoso delle mazze da baseball (un po' I guerrieri della notte e un po' Kill Bill) alla killer letale con i martelli da falegname (ancora Kill Bill e Matrix).
Ma le citazioni, i possibili richiami (Solo Dio perdona di Refn, in primis) sono poco più che spunti, strizzate d'occhio che aggiungono (tutto The Raid 2 lavora per "addizione", mai per sottrazione) deliziosi ricami a un core stilistico-narrativo già di per sé solido e inattaccabile.
L'antica tecnica di Jackie Chan, quella di rendere oggetti che sono parte dell'environment strumenti letali di lotta viene spinta all'eccesso: dai boccioni dell'acqua ai fornelli da cucina, nelle mani di Iko Uwais ogni cosa diviene un'arma, ogni oggetto una minaccia. The Raid 2 è molto semplicemente lo zenith del cinema di azione, oltre il quale sembra umanamente impossibile spingersi. Un'esperienza sensoriale unica, una prova di resistenza per lo spettatore che lo rende pari al più prodigioso degli incassatori, in cui i limiti del visibile e dell'umanamente sostenibile sono forse stati irreversibilmente toccati.
« Alba fatale – The Ox-Bow Incident – dvdrip ita/eng Un Uomo per tutte le Stagioni – A Man for All Seasons – dvdrip ita/eng »