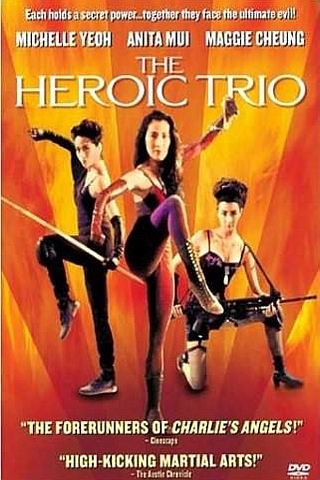 Regia di Johnnie To, Siu-Tung Ching. Un film Da vedere 1992 con Michelle Yeoh, Maggie Cheung, Mimi Zhu, Ruisheng Zheng, Yifei Huang, Zhaoxiang Ruan, Anthony Chau-Sang Wong, Damian Lau, Sai-kun Yam, Tao Xu (II), Zhaoji Li, Haowen Jiang, Zhuoxin Chen, Yee Kwan Yan. Cast completo Titolo originale: Dong fang san xia. Genere Fantascienza – Hong Kong, 1992, durata 104 minuti. Valutazione: 3,50 Stelle, sulla base di 1 recensione.
Un rapitore invisibile di neonati tiene sotto scacco la polizia. Solo la misteriosa Wonder Woman ostacola i piani del criminale: unendo le proprie forze alla cacciatrice di taglie Chat, le due riescono a svelare l'identità del nemico e il folle piano del suo diabolico mandante.
In Irma Vep, guardando una sequenza di The Heroic Trio, Jean-Pierre Léaud – alter ego cinematografico di Olivier Assayas, che sposerà l'attrice – si innamora di Maggie Cheung, icona bellissima e inafferrabile di un cinema radicalmente diverso da tutto ciò che c'è stato prima. Ed è in questo senso che occorre approcciarsi a The Heroic Trio, così radicale nella sua singolarità da rimanere tale anche a decenni di distanza dall'uscita in sala. Cercare un senso nell'intreccio o una qualche verosimiglianza nella rappresentazione scenica è uno sforzo totalmente vano.
Johnnie To, ancora privo di uno stile ben definito, si affida al coreografo di arti marziali più ricercato dell'epoca, il Ching Siu-tung di Storia di fantasmi cinesi, che caratterizza con il suo inconfondibile look i set tra cui si muovono le supereroine e i relativi villain. Pur con un budget estremamente ridotto e con ingenuità in serie – incongruenze logiche, effetti kitsch, ecc. The Heroic Trio affascina, talora quasi inspiegabilmente, per la sua capacità di trasportare la mente dello spettatore in un luogo in cui le consuete leggi spaziotemporali non hanno senso e, di conseguenza, dove tutto è possibile. Un oggetto pop non identificato, caratterizzato da un uso di colori e luci che sta tra il Batman psichedelico degli anni Sessanta e il Burton di Beetlejuice, che si lascia andare a efferatezze horror sorprendenti, in barba a qualsiasi codice etico. Nemmeno i bambini piccoli sono infatti risparmiati dal delirio gore di To e Ching.
« PTU – dvdrip cor subita Life Without Principle – Dyut meng gam – dvdrip cin subeng/cin »