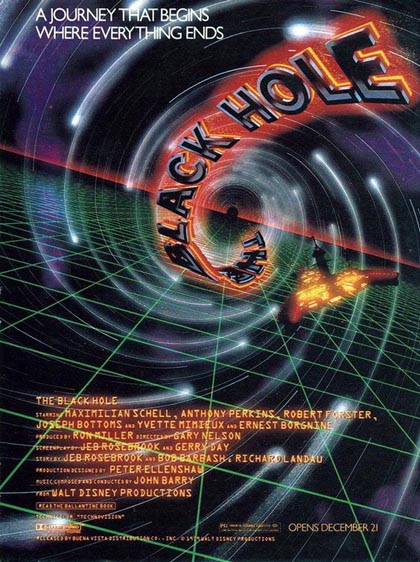 Un film di Gary Nelson. Con Maximilian Schell, Yvette Mimieux, Robert Forster, Anthony Perkins, Joseph Bottoms. Titolo originale The Black Hole. Fantascienza, durata 98 min. – USA 1979. MYMONETRO The Black Hole (Il buco nero)





valutazione media: 2,60 su 9 recensioni di critica, pubblico e dizionari.
L'astronave Palomino viaggia nell'universo alla ricerca di forme di vita. La missione ha dato esiti infruttuosi ed il capitano Dan Holland pensa di invertire la rotta e far ritorno sulla Terra quando le strumentazioni di bordo avvistano la stazione spaziale Cygnus, data per dispersa 20 anni prima, in prossimità di un "buco nero". Rischiando il pericolo di essere risucchiato, il Palomino si aggancia al Cygnus e Holland incontra il dottor Hans Reinhart, unico sopravvissuto dell'equipaggio, il quale ha affidato il governo della nave ad uno stuolo di robot che egli dice aver programmato durante gli anni di lunga solitudine. 
« Il Collezionista – The Collector – 1965 – bdrip 720p h264 ita/eng subita/eng Carrie – Lo Sguardo di Satana – bdrip 1080p h265 ita/eng subeng »