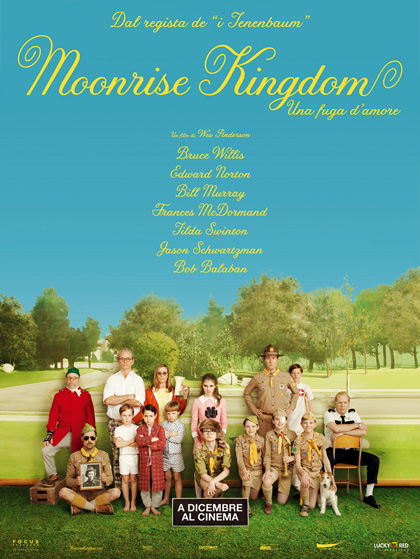 Un film di Wes Anderson. Con Bruce Willis, Edward Norton, Bill Murray, Frances McDormand, Tilda Swinton. Titolo originale Moonrise Kingdom. Drammatico, durata 94 min. – USA 2012. – Lucky Red uscita mercoledì 5 dicembre 2012. MYMONETRO Moonrise Kingdom – Una fuga d'amore





valutazione media: 3,35 su 66 recensioni di critica, pubblico e dizionari.
Estate 1965. Su un'isola del New England vive la dodicenne Suzy, preadolescente incompresa dai genitori. Sulla stessa isola si trova in campeggio scout il coetaneo Sam, orfano affidato a una famiglia che lo considera troppo 'difficile' per continuare ad occuparsene. I due si sono conosciuti casualmente, si sono innamorati e hanno deciso di fuggire insieme seguendo un antico sentiero tracciato dai nativi nei boschi. Gli adulti, ivi compreso lo sceriffo Sharp, si mettono alla loro ricerca anche perché è in arrivo una devastante tempesta.
È indispensabile prestare attenzione all'ouverture di Moonrise Kingdom e non abbandonare la sala prima della fine dei titoli di coda per comprendere il senso profondo del film di Anderson che, altrimenti, rischia di essere letto superficialmente come un'ulteriore esibizione di genialità narrativa infarcita di gag e di trovate visive senza però che si vada oltre. Non è così. Chi era bambino nella prima metà degli Anni Sessanta ha molto probabilmente nella propria raccolta di vinili la suite didattica "Young Person's Guide to the Orchestra" di Benjamin Britten in cui si presentavano i diversi strumenti che compongono l'orchestra basandosi su un tema di Purcell in cui l'ensemble si riuniva per eseguire una fuga.
Una fuga è esattamente ciò che mettono in atto Suzy e Sam. Una fuga che serve apparentemente a scomporre ma in realtà ha come meta la ricomposizione dei frammenti di due vite che rischiano la dissoluzione. Alla fine del film Anderson gioca con questo fil rouge sonoro di nuovo 'scomponendo': questa volta tocca alla musica di Desplat, autore del soundtrack originale del film. Ci ricorda così, al contempo, che fare cinema (stanno scorrendo i titoli di coda non dimentichiamolo) è 'orchestrare' varie e quasi innumerevoli professionalità ma riesce anche a fare di più. Sottolinea che il suo cinema più recente è orientato a cercare le radici del comportamento adulto in accadimenti che hanno marcato gli anni giovanili.
Così era per i fratelli de Il treno per il Darjeeling, così è stato per Fantastic Mr.Fox (un ritorno alle proprie origini con il portare sullo schermo il primo libro che Anderson ricorda di aver letto), così accade ora. Suzy e Sam sono non dei disadattati ma dei 'disadatti' a un mondo adulto che si sta spegnendo nell'indifferenza (la famiglia della ragazzina) o sopravvive grazie a regole applicate puntigliosamente che pretendono di imbrigliare l'avventura (il campo scout per Sam). Nel prologo, dalla casa di bambola in cui vive con i genitori e i fratelli, Suzy osserva il mondo grazie alla distanza del suo binocolo ma, per un istante, guarda in macchina interrogandoci.
Siamo ancora capaci di emozionarci per un bacio? Sappiamo capire fino a che punto un essere umano in formazione abbia bisogno del nostro aiuto per togliersi il costume nero da corvo (e viene in mente "Blackbird", masterpiece dei Beatles) e quanto invece possa e debba affrontare il piacere dell'avventura della vita con quel tanto di libertà che gli permetta di dipingere un mondo nuovo? Sono quesiti che ogni tanto gli adulti dovrebbero porsi. Anderson fa bene a riproporceli.
« Duello a El Diablo – dvdrip ita Air Force One – bdrip ita »