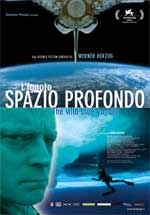 Un film di Werner Herzog. Con Brad Dourif, Ellen Baker, Franklin Chang-Diaz, Shannon Lucid, Michael Mcculley, Donald Williams Titolo originale The wild blue yonder.Documentario, durata 81 min. – Francia, Germania, Gran Bretagna 2005. uscita venerdì 25 novembre 2005. MYMONETRO L'ignoto spazio profondo 





 valutazione media:3,13 su 12 recensioni di critica, pubblico e dizionari.
Werner Herzog è un regista che negli ultimi anni ha agito nell'ombra. Una decina di documentari e docu-fiction che non si è preoccupato tanto di promuovere, quanto invece del piacere di girarli per amore del proprio lavoro. The wild blue yondercorre, ancora una volta, sulla linea della fiction documentata per proiettarci nella fantascienza, nell'ignoto spazio, narrando di alieni che alla fine risultano più umani di noi. 
Un alieno (Brad Dourif) racconta con passione e malinconia un sogno infranto: creare un avamposto, una "Casa Bianca", base e centro nevralgico di un popolo sconosciuto alla ricerca di un luogo, la Terra, per aprire nuove frontiere. La metafora extraterrestre diviene una sorta di pretesto per fotografare la condizione umana e dichiarare che i veri alieni siamo noi, che nello spazio esploriamo nuove strade di speranza per la prossima civiltà.
Sospeso fra interminabili e poetiche sequenze, The wild blue yonder è passato, presente e futuro dei viaggi nello spazio dell'umanità. Non un'esplorazione, ma il desiderio di un nuovo sogno e di una terra che sia migliore della nostra, ormai giunta allo stremo delle forze.
Una piccola ed ecologica Odissea nello Spazio per comprendere che il cinema può essere filosofia e comunicazione dello stato delle cose. 
« Le Sorelle Munekata – Munekata Kyoudai – dvdrip jap subita Lontano dal Vietnam – tvrip fra subita »