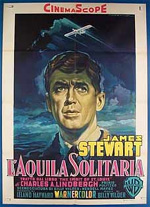 Un film di Billy Wilder. Con James Stewart, Murray Hamilton, Bartlett Robinson, Carleton Young, Marc Connelly Titolo originale The Spirit of St. Louis. Biografico, durata 135′ min. – USA 1957. MYMONETRO L'aquila solitaria





valutazione media: 3,50 su 8 recensioni di critica, pubblico e dizionari.
Tra il 20 e il 21 maggio 1927 Charles Lindbergh volò per primo attraverso l'Oceano Atlantico da New York a Parigi in 33 ore e mezzo. Una delle grandi imprese del secolo. Film "positivo" e celebrativo, dunque anomalo nella carriera del caustico Wilder. Sempre nobile, spesso avvincente, qua e là tedioso e soporifero. Impeccabile ricostruzione d'epoca. La musica aiuta.
« Frost/Nixon – Il Duello – dvdrip ita Treno di Notte per Lisbona – dvdrip ita »