Regia di Hong Sang-soo. Un film Da vedere 2014 con Ryo Kase, So-Ri Moon, Young-hwa Seo, Eui-sung Kim, Yuh Jung Youn, Ju-bong Gi. Cast completo Titolo originale: Jayueui onduk. Titolo internazionale: Hill of Freedom. Genere Drammatico, – Corea del sud, 2014, durata 66 minuti. distribuito da Fil Rouge Media. Valutazione: 3,50 Stelle, sulla base di 1 recensione.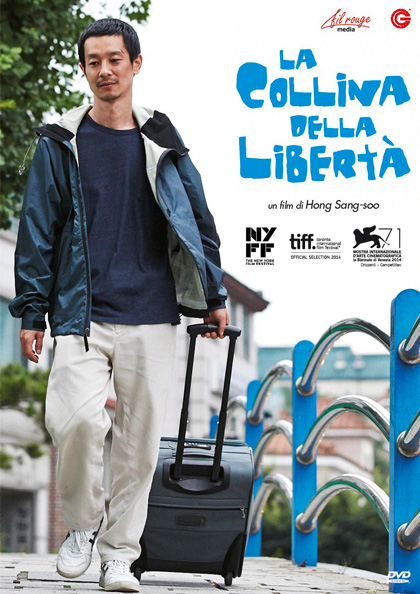 Il giapponese Mori torna a Seoul per ritrovare Kwon, che non vede da due anni. Nel frattempo vive alcune curiose avventure in città, che racconta in una lettera a Kwon, nella speranza che questa possa leggerla. Aprendo la lettera Kwon fa cadere le pagine, smarrendo così il loro ordine sequenziale: le leggerà in questa nuova sequenza, cercando di ricostruire quanto avvenuto a Mori.
L'arte quantomai complessa di mutare tutto senza mutare apparentemente nulla appartiene sempre più a Hong Sang-soo, un anti-gattopardo del cinema, che prosegue incessantemente nella sua opera di cesello di storie minimaliste e divertissement che, tra uno scherzo registico e l'altro, trovano il tempo di filosofeggiare sull'esistente. Hill of Freedom non fa eccezione, anzi, pare quasi un ulteriore passo avanti, nonostante la lunghezza contenuta, nella poetica del regista sudcoreano. In meno di 70 minuti Hong trova il modo di condensare gli espedienti narrativi e le tecniche di ripresa a lui più care: zoom e piani fissi prolungati accompagnano un'ardita scomposizione tra fabula e intreccio, un nuovo esperimento à la Resnais sull'arte dello storytelling. Cinema e vita paiono ormai indistinguibili, ambedue suddivisi in fotogrammi, ambedue scanditi da un Tempo tiranno che pare oggettivizzare concetti in realtà soggettivi. Passato, presente e futuro sono solo proiezioni dell'uomo, come spiega lo spaesato Mori, ignaro di essere egli stesso il fulcro della dimostrazione empirica di questo concetto. Ma è il tocco a fare la differenza, quella raffinata carezza che è tale anche e soprattutto in contrasto rispetto a uno stile scarno e volutamente semplicistico. Ancora una volta il dialogo tace quando è l'amore a parlare, ma è soprattutto indicativo che Hong scelga l'ellissi quando sono i pugni a parlare, non mostrando ciò che chiunque mostrerebbe, in coraggiosa controtendenza con un preponderante e diffuso esibizionismo registico. Hong appartiene a un'altra epoca e a un'altra idea di cinema, senza farne mistero. Ma in fondo renderla anche la nostra epoca è solo una questione soggettiva: di passato, presente e futuro. 
« L'Uomo Del Riksciò – dvdrip jap Symbol – Shinboru – dvdrip spa subita »