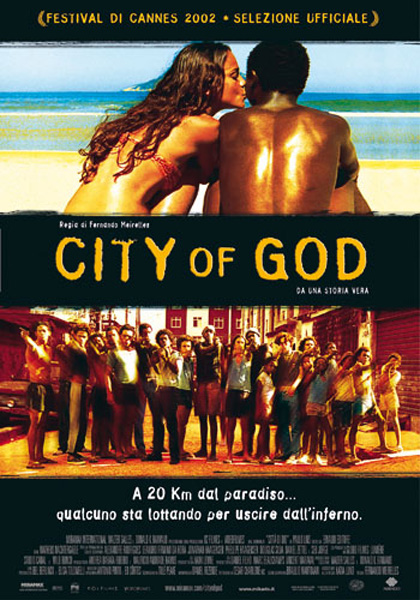 Un film di Fernando Meirelles. Con Alexandre Rodrigues, Matheus Nachtergaele, Seu Jorge, Leandro Firmino da Hora, Alice Braga.vTitolo originale Cidade de Deus. Drammatico, durata 130 min. – Brasile, Francia, USA 2001. MYMONETRO City of God





valutazione media: 3,74 su 53 recensioni di critica, pubblico e dizionari.
Rio de Janeiro, dagli anni '60 agli '80. La favela di Cidade de Deus diventa il palcoscenico delle storie parallele di Buscapé e Dadinho. Entrambi tredicenni, sono però mossi da ambizioni diversissime: il primo vorrebbe diventare fotografo, il secondo il più temuto criminale della città. Se Buscapé trova molti ostacoli nella realizzazione dei propri sogni, Dadinho diventa rapidamente padrone del quartiere e del narcotraffico con lo pseudonimo di Zè Pequeno. La morte del suo braccio destro Bené e la violenza perpetrata ai danni della fidanzata del mite Galinha innescheranno una guerra tra bande dall'esito tragico.
Tratto dall'omonimo (e interessante) romanzo di Paulo Lins, City of God è un esempio da manuale di film furbo. Con l'aria di volere essere il più possibile aderente alla realtà Meirelles confeziona un crime – movie efficace quanto rozzo, la cui violenza sensazionalistica si sposa a un qualunquismo di discreta protervia. Non è un caso che a produrre sia il sopravvalutato Walter Salles di Central do Brasil: siamo di fronte al classico titolo da esportazione, pensato per i festival e per le platee con velleità politico – sociali. Ma di autentico, a parte un notevole senso del ritmo e qualche bella soluzione di regia, c'è poco. Azzeccati gli interpreti, rigorosamente non professionisti.
« E ridendo l'uccise – dvdrip ita Il Bagno Turco – dvdrip ita »