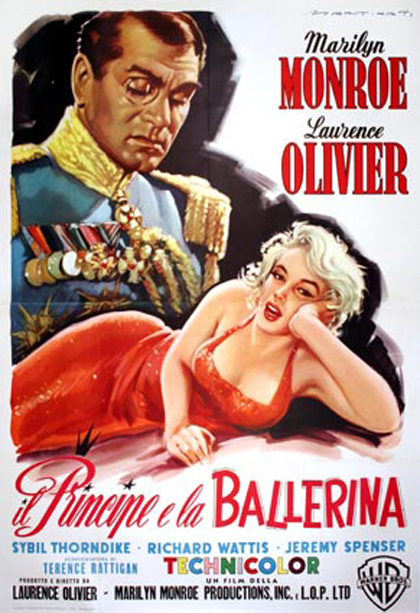 Un film di Laurence Olivier. Con Marilyn Monroe, Laurence Olivier, Richard Wattis, Sybil Thorndike, David Horne. Titolo originale The Prince and the Showgirl. Commedia, Ratings: Kids+13, durata 117′ min. – USA 1957. MYMONETRO Il principe e la ballerina





valutazione media: 3,38 su 7 recensioni di critica, pubblico e dizionari.
Dalla commedia The Sleeping Prince (1953) di T. Rattigan: arrivato a Londra nel 1911 per assistere all'incoronazione di Giorgio V, il granduca Carlo di Carpazia vuole compagnia galante per la serata. La trova in una ballerina americana, ma la situazione si complica. Il copione è un po' moscio, irrimediabilmente coperto di polvere teatrale, ma la messinscena di Olivier è di un accademismo impeccabile e la Monroe, anche produttrice, sfolgora. Domanda: chi delle due star ha più sfruttato l'altra?
« The Father – bdrip 1080p h265 ita/eng subita/eng L'Incal – Numeri da 1 a 17 – pdf »