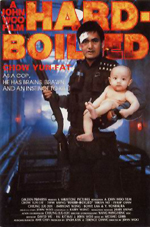 Un film di John Woo. Con Chow Yun-Fat, Anthony Wong Titolo originale Lashou Shentan. Poliziesco, durata 125 min. – Hong Kong 1992. MYMONETRO Hard Boiled





valutazione media: 3,17su 5 recensioni di critica, pubblico e dizionari.
Durante un'azione di polizia in una sala da tè, perde la vita un agente amico di Tequila (Chow Yun-fat). La sete di vendetta di quest'ultimo lo porterà involontariamente a ostacolare i piani dell'agente Alan (Tony Leung), infiltrato nell'organizzazione del sadico trafficante d'armi Johnny (Anthony Wong).
The Killer rappresenta il lirismo dello heroic bloodshed, A Better Tomorrow la componente più melò ed essoterica,A Bullet in the Head il lato più politico e nel contempo personale; ma se si cerca la summa del cinema d'azione duro e puro secondo John Woo occorre rivolgersi a Hard Boiled. Nonostante le ingenuità di sceneggiatura e gli eccessi, è evidente sin dalla prima di una lunga serie di coreografie action, la sparatoria nella sala da tè, che Hard Boiled rappresenti una sfida lanciata da Woo a se stesso, per verificare fin dove è possibile alzare l'asticella dell'action movie, aggiornando la lezione di Siegel e Peckinpah alle esigenze, in termini di sangue ed energia cinetica, di fine millennio.
La balistica dei proiettili e le evoluzioni aeree dei contendenti sono esaltate da coreografie impensabili (la morgue o una sala da tè usati come corpi cinematografici funzionali allo shoot-out, immobili in un contesto in cui uomini e macchina da presa sono acrobati in perenne movimento), che portano alle estreme conseguenze l'invincibilità di eroi e malvagi e la sostanziale inesauribilità dei proiettili. Se i villain sono autentiche caricature, con Philip Kwok nei panni del killer spietato e infallibile e l'eclettico Anthony Wong in quelli del boss psicopatico Johnny, è il lavoro sugli eroi a esaltare la concezione del mondo e dei rapporti umani secondo John Woo. Tequila è uno dei personaggi più emblematici di Chow Yun-fat, nel contempo umile sergente che preferisce l'arte (il clarinetto) e il disimpegno (nelle relazioni) alla carriera, ma che è immediatamente disposto a sacrificare la vita per assicurare i criminali alla giustizia o per vendicare un amico; impagabili i siparietti con un barista ex-poliziotto interpretato da Woo stesso e che – ovviamente – incarna alla perfezione gli ideali del regista.
Ma ancor più suggestivo di Tequila è il personaggio di Tony Leung Chiu-wai, il cui approccio minimalista contrasta con la recitazione sopra le righe di Chow e Wong; è dal contrasto stridente tra gli stili recitativi che viene evidenziata la peculiarità di una psiche complessa (o comunque più complessa della media Woo) come quella di Alan, scissa tra personalità multiple e contrastanti: oggi killer implacabile delle triadi e domani poliziotto pronto a tutto pur di mettere fine al racket di Johnny. Un anticipo del tema sull'identità su cui Alan Mak costruirà la trilogia intera di Infernal Affairs.
Metafore come il richiamo a Shakespeare – quintessenza del dubbio – sono semplici e dirette, ma è il linguaggio che Woo meglio conosce per esporre la propria etica. Quando ricorre alle parole, naturalmente; per il resto c'è pur sempre il piombo.
« Gigolò per Caso – Fading Gigolo – dvdrip ita/eng subita Il Postino – Versione restaurata – bdrip 108p h265 ita subita »