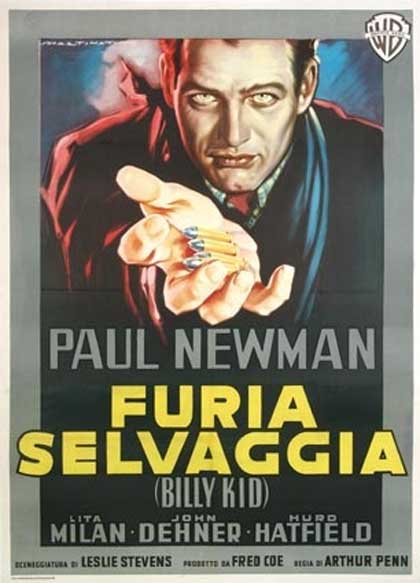 Un film di Arthur Penn. Con Paul Newman, Lita Milan, John Dehner, Hurd Hatfield, James Congdon. Titolo originale The Left-handed Gun. Western, Ratings: Kids+13, b/n durata 102 min. – USA 1958. MYMONETRO Furia selvaggia – Billy Kid





valutazione media: 3,13 su 8 recensioni di critica, pubblico e dizionari.
William H. Bonney, detto Billy the Kid, diventa un fuorilegge assassino per vendicare la morte di un amico che gli aveva fatto da padre. Lo sceriffo Pat Garrett lo aspetta. Dal teledramma (1955) di Gore Vidal The Death of Billy the Kid l'esordiente A. Penn ha tratto un western controcorrente: teso, visionario, sfrontato, acido, emozionante e tenero. Scoperto dalla critica europea. Newman aveva già interpretato il personaggio in TV. L'adattamento è di Leslie Stevens. L'originale regia di Penn influenzò la svolta nel western operata da Sam Peckinpah, Robert Altman e altri.
« Il Sapore della Ciliegia – dvdrip ita Il Caso Thomas Crown – bdrip 480p ita »