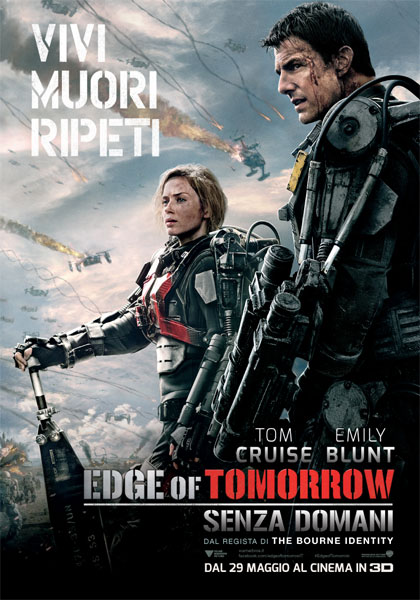 Un film di Doug Liman. Con Tom Cruise, Emily Blunt, Bill Paxton, Brendan Gleeson, Jonas Armstrong. Titolo originale Edge of Tomorrow. Azione, Ratings: Kids+13, durata 113 min. – USA 2014. – Warner Bros Italia uscita giovedì 29 maggio 2014. MYMONETRO Edge of Tomorrow – Senza domani





valutazione media: 3,44 su 62 recensioni di critica, pubblico e dizionari.
Il maggiore Cage è l'ufficio stampa dell'esercito mondiale nella più grande guerra mai sostenuta dall'umanità, quella contro gli alieni atterrati sul nostro pianeta. Reticente a misurarsi sul campo di battaglia quando viene inviato sul fronte dal generale rifiuta l'incarico e per questo viene ammanettato e spedito lo stesso a combattere come disertore, proprio nel giorno della gigantesca offensiva progettata dall'umanità. Totalmente incapace di manovrare l'esoscheletro con il quale si combatte nelle prime fasi di battaglia distrugge un alieno ma rimane contaminato dal suo sangue e da quel momento ogni volta che muore si risveglia sempre nello stesso punto, all'inizio di quella giornata da disertore, condannato a ripetere sempre gli stessi eventi.
Con il continuo ripetere comincia a conoscere bene le mosse del nemico, dimostrando un'abilità in battaglia che cattura l'attenzione di un altro soldato che sembra aver capito tutto e sostiene di poterlo aiutare.
È un felice incontro quello tra l'indole da commediante con la quale Doug Liman dirige film d'azione, la passione per le trame narrate in modo poco convenzionale di Christopher McQuarrie e la light novel "All you need is kill" di Hiroshi Sakurazaka da cui Edge of tomorrow – Senza domani prende le mosse.
Senza esplorare le implicazioni filosofiche ed etiche del vivere sempre il medesimo giorno Liman e McQuarrie si divertono molto con il montaggio, sfruttandolo per diverse gag e riuscendo a lavorare di ellisse in maniere sconosciute ai blockbuster hollywoodiani.
Il principio alla base della dinamica narrativa rimane quello messo per la prima volta in scena da Ricomincio da capo, ovvero il miglioramento personale attraverso la continua ripetizione delle medesime situazioni, tuttavia la maniera in cui McQuarrie lo espande in una trama di fantascienza ne enfatizza ancora di più la parentela con la videoludica. Non solo infatti il maggiore Cage arriva a conoscere i movimenti dei propri nemici, gli eventi e le loro conseguenze, potendo così arrivare ogni nuovo giorno più in là del precedente (realmente e metaforicamente) ma anche gli alieni sono di diverse tipologie, l'uccisione di ognuna delle quali porta conseguenze differenti, inoltre le aree dove si svolge il film (principalmente la spiaggia e poi il Louvre) somigliano a mappe di videogame sparatutto per come sono inquadrate nelle panoramiche e anche il design dei protagonisti è vicinissimo a quello dei personaggi giocabili nei giochi di guerriglia fantascientifica.
Abili nel non rimanere impantanati nelle dinamiche ripetitive su cui si fonda il film, Liman e McQuarrie sfruttano il principio più attraente di questa storia solo fino a che serve, sapendo realmente quando fermarsi per non rovinare tutto e trovando in Emily Blunt un'implacabile macchina empatica. Nonostante il suo personaggio non abbia nessuna evoluzione (è effettivamente sempre il medesimo nella medesima giornata) l'attrice britannica lavora benissimo di plausibilità e onestà sentimentale, risultando anche più fondamentale per la credibilità del film dello stesso Tom Cruise.
Con un fumetto, i videogiochi e diversa fantascienza moderna (quella di Neill Blomkamp in primis) a fare da affluenti il fiume Edge of tomorrow scorre impetuoso e, nonostante un arco narrativo canonico, riesce in certi punti anche a stupire sinceramente, manipolando benissimo le diverse fonti d'ispirazione per riaffermare la capacità ad oggi unica del cinema di alimentarsi delle altre forme narrative senza snaturare se stesso.
« …E la Notte si tinse di Sangue – Born for Hell – vhsrip ita La Freccia nera – Miniserie – dvdrip ita »