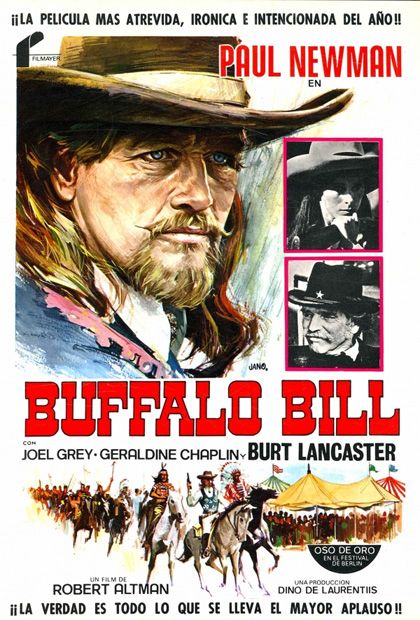 Un film di Robert Altman. Con Geraldine Chaplin, Harvey Keitel, Paul Newman, Burt Lancaster, Joel Grey. Titolo originale Buffalo Bill and the Indians, or Sitting Bull's History Lesson. Western, durata 120 min. – USA 1976. MYMONETRO Buffalo Bill e gli indiani





valutazione media: 3,00 su 4 recensioni di critica, pubblico e dizionari.
William F. Cody ovvero Buffalo Bill, sul finire del XIX secolo dirige una spettacolo circense che rievoca le sue imprese. Tra i tendoni si aggira, non gradito, Ned Buntline, colui che ha trasformato un cacciatore di bisonti in un mito inventandone in buona parte le imprese. Per attrarre un maggior numero di spettatori Cody ingaggia il vero Toro Seduto il quale parla con lui solo attraverso un portavoce. Il rapporto tra i due non è dei migliori ma il capo indiano vuole fondamentalmente conservare la propria dignità.
Robert Altman, dopo aver dedicato il suo capolavoro Nashville all'America in cui vive torna a celebrare a suo modo il Bicentenario andando a scavare alle radici del mito fondante cioè quello del 'selvaggio West'. Lo fa con una star (Paul Newman) nel ruolo di una star di una leggenda che vive più di finzione che di realtà ripartendo da quel circo con cui aveva chiuso Anche gli uccelli uccidono. Gli spettacoli del West Wild Show di Buffalo Bill sono stati reali (sono giunti anche in Italia per ben due volte) così come originali sono le marcette che vengono eseguite nel film ma quello che più conta in questo film non è la traduzione cinematografica di un altro celebre film: L'uomo che uccise Liberty Valance di John Ford con la sua celebre frase su leggenda e realtà. Altman vuole sì entrare polemicamente a dire la sua sul rapporto tra cowboys e pellerossa e, in senso ancora più lato, tra l'istituzione e ciò che è diverso (vedi il Presidente in visita allo Show) ma soprattutto sta elaborando un saggio teorico sul rapporto tra realtà e rappresentazione. Non è un caso che sia Buntline (interpretato da una star come Burt Lancaster) a offrirci una precisa cifra di lettura del film: è lui che ha 'creato' Buffalo Bill, è lui che ne viene tenuto a distanza ora che il mito si è consolidato ed è sempre lui ad abbandonarlo ai soliloqui allucinati che possono solo tradursi in un'ennesima finzione con se stesso e con gli altri. La scena in cui Toro Seduto (che nel gioco continuo tra essere e apparire risulta troppo poco imponente in relazione alle imprese che gli vengono attribuite, entra di notte nell'appartamento di Cody è rivelatrice. Sorpreso nel sonno la prima cosa di cui il nostro 'eroe' si preoccupa è di essere stato sorpreso senza il suo toupet tutto boccoli ricadenti sulle spalle. La finzione è stata rivelata e a nulla varrà il tentativo di Buffalo di screditare il capo indiano nel momento in cui entrerà per la prima volta in pista. Per i due il modo di rapportarsi con la rappresentazione è estremamente diverso e in questo sta anche il lor modo di affrontare la realtà.
« FBI – Operazione Gatto – dvdrip ita Lo Specchio – dvdrip ita »