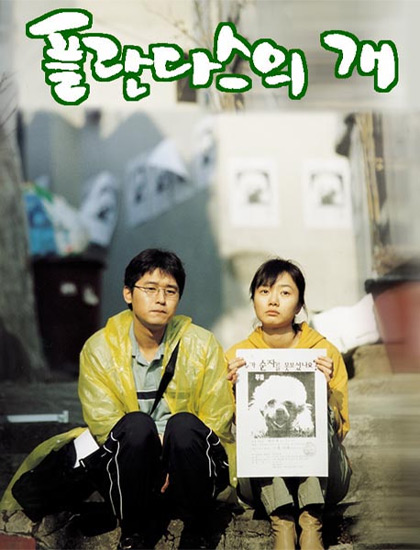 Regia di Bong Joon-ho. Un film Da vedere 2000 con Sung-jae Lee, Du-na Bae, Doona Bae. Genere Commedia – Corea del sud, 2000, durata 106 minuti. Valutazione: 3,50 Stelle, sulla base di 1 recensione.
Yun-ju è un nullafacente che non ha i soldi per corrompere il suo preside e diventare professore; frustrato, si sfoga con i cani del vicinato, cercando goffamente di eliminarli. Di contro Hyun-nam, giovane svampita ma di buon cuore, decide di indagare per scovare il rapitore di cani.
Mascherato sotto i panni della commedia surreal-demenziale, Barking Dogs Never Bite lavora sottopelle e insinua più di un dubbio sulla sua reale natura. Commedia bizzarra o riflessione tutt'altro che banale e tutt'altro che ottimista sul quotidiano? Verrebbe da propendere per la seconda ipotesi, anche considerato il prosieguo della carriera – Memories of Murder, The Host, Mother – di uno dei maggiori talenti emersi dalla Corea del Sud di terzo millennio, quel Bong Joon-ho che si rivelerà solidissimo autore apprezzato internazionalmente e nel contempo brillante interprete dei gusti del pubblico sudcoreano, da cui sarà sistematicamente ripagato con incassi da capogiro.
È negli anfratti della vicenda, anziché nell'intreccio principale, che si coglie l'amarezza dell'analisi di Bong; un aspirante professore che deve pagare per diventarlo, la Tv come unica via per il successo dei più sfortunati in una vita altrimenti inutile, ma soprattutto le condizioni di lavoro disagiate di una donna incinta in un sistema fondamentalmente misogino come quello coreano. Nell'assurdo della superficie, invece, pullula una fauna variegata di psicosi umane, talora a livelli parossistici, come il custode che si cucina cani nello scantinato o il barbone che ripara le antenne e vive nei ripostigli del condominio.
Un mondo caotico e privo di un filo logico, che porta naturalmente a solidarizzare con i reietti, i disadattati, coloro che si rifiutano di aderire a comportamenti e priorità che implicano comportamenti nel migliore dei casi stupidi, nel peggiore malvagi. Per i teneri di cuore come Hyun-nam – una giovane e già bravissima Bae Doo-na (Mr. Vendetta), di lì in avanti specializzata nella parte della ragazza stralunata – resta solo tanta frustrazione, benché questa non incrini minimamente l'ottimismo proprio dei semplici. Pregevole anche la colonna sonora, a base di un avant-jazz schizoide che si rivela appropriato per punteggiare le sequenze più folli, quelle in cui il Fato più si diverte a prendersi gioco dei personaggi, permettendo loro di incontrarsi e/o scontrarsi senza che possano mai capire – ammesso che esista – la direzione corretta da seguire.
« The Host – Gwoemul – dvdrip ita/cor subita Dogs – Caini – dvdrip rum subita »