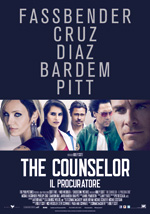 Un film di Ridley Scott. Con Michael Fassbender, Penelope Cruz, Cameron Diaz, Javier Bardem, Brad Pitt. Titolo originale The Counselor. Drammatico, durata 111 min. – USA, Gran Bretagna 2013. – 20th Century Fox uscita giovedì 16 gennaio 2014. MYMONETRO The Counselor – Il Procuratore





valutazione media: 2,23 su 107 recensioni di critica, pubblico e dizionari.
Per guadagnare tanto e molto in fretta, avvocato texano entra in affari con i narcos messicani. Vorrebbe fare una rapida transazione, intascare e chiuderla, ma non ha previsto che ignoti rubino il carico, e il potente e spietato boss Reiner non ha intenzione di lasciarlo andare. Scritto dall'80enne Cormac McCarthy, narratore influenzato da Saul Bellow e qui anche produttore, è un film in cui il pessimismo prevale: fallibili, inutili, malvagi, innocenti, sono tutti vittime della storia di cui sono i principali artefici. "C'è così poco cinema in The Counselor da generare una paradossale purezza espressiva… Scott trova una limpidezza di sguardo mai posseduta…" (Roberto Manassero).
« Mediterraneo – bdrip 1080p h264 ita subita/eng Fudoh – The new Generation – Gokudō sengokushi – Fudō – dvdrip jap subita »