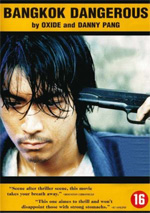 Un film di Danny Pang, Oxide Pang. Con Pawalit Mongkolpisit, Premsinee Ratanasopha, Patharawarin Timkul, Pisek Intrakanchit. Azione, durata 105 min. – Tailandia 1999. MYMONETRO Bangkok Dangerous





valutazione media: 2,67 su 4 recensioni di critica, pubblico e dizionari.
Kong è un killer ma non per scelta: nato sordomuto e sottoposto in tenera età a ogni genere di bullismo, non poteva che impugnare la pistola e trovare una via nell'odio. Finché nella sua vita entra Fon, una giovane farmacista che aiuta Kong a ritrovare se stesso e a conoscere un lato di sé fin lì ignorato.
Bangkok Dangerous è il biglietto da visita con cui i fratelli Pang – in seguito autori di The Eye – hanno deciso di presentarsi al pubblico a cavallo dei due millenni. Il film giusto, il film furbo. Anche troppo furbo; sorretti da una tecnica non comune, infatti, i Pang raccolgono, sotto forma di quasi-videoclip estetizzante, i cliché più consolidati del noir di Hong Kong (i duelli con doppia pistola e il killer innamorato del John Woo di The Killer, i freezeframe e i neon abbacinanti del Wong Kar-wai di Angeli perduti, i killer senza speranza che si ribellano al loro boss del Johnnie To di A Hero Never Dies) fino ai modelli stessi del cinema di Hong Kong (l'armonica morriconiana dei flashback in bianco e nero, l'astrazione dell'assassin(i)o alla Suzuki).
Attitudine sopra le righe e mano pesante, sempre e comunque, specie quando si tratta di calcare sulle immagini clou: la cruda rozzezza delle scene action è quella del cinema thai, ma la presunzione è tutta dei Pang, impegnati a celebrare il cinema che hanno amato e che li ha formati. E quale ambientazione migliore di una Bangkok selvaggia e senza pietà – benché non manchi una capatina a Hong Kong – dove la vita conta meno di una manciata di baht e gli hitmen non si fermano di fronte a nulla?
Ecco così la parabola del killer perfetto, una macchina da guerra che non parla né sente, un alienato dal sangue gelido, un meccanismo splendidamente oliato nei cui ingranaggi si infilano amore e amicizia. Pur essendo un noir a tutti gli effetti, il meglio sta nelle tenere sequenze melò tra Kong e Fon, in cui Danny e Oxide Pang finalmente mettono a freno la loro smisurata ambizione e la debordante cinefilia per limitarsi a raccontare di come il killer impari ad essere ascoltato e a capire che qualcuno può interessarsi a lui; a intuire che non si vive di sola morte, ma che si può vivere di solo amore.
« Sette Opere di Misericordia – hdtvrip ita subita Certi Bambini – dvdrip ita »