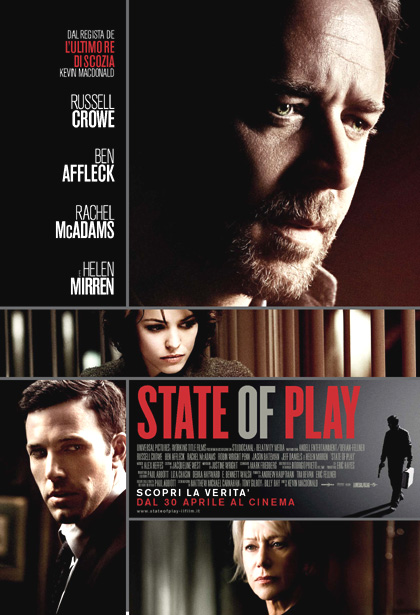 Un film di Kevin Macdonald. Con Russell Crowe, Ben Affleck, Rachel McAdams, Helen Mirren, Robin Wright. Titolo originale State of Play. Azione, Ratings: Kids+13, durata 125 min. – USA 2009. – Universal Pictures uscita giovedì 30 aprile 2009. MYMONETRO State of Play





valutazione media: 3,15 su 61 recensioni di critica, pubblico e dizionari.
Cal McAffrey è un veterano della carta stampata, il suo è un giornalismo che va di persona alla fonte, che investiga, si pone domande, nel nome della verità e di una buona storia. Stephen Collins è stato suo compagno di studi e di stanza e ora è un giovane ed ambizioso deputato a capo di un comitato che controlla le spese per la difesa nazionale, in odore di abnormi illeciti. Quando la bella assistente nonché amante di Collins muore in un dubbio incidente, le strade dei due amici tornano ad incrociarsi tra loro e con quelle della giovane Della Frye, reginetta della blogosfera, e di Anne Collins, moglie di Stephen, alla quale Cal è tutt'altro che estraneo.
Riduzione e reinvenzione dell'omonima miniserie inglese di sei ore, State of Play sposta l'azione nel cuore simbolico del potere, Washington D.C., e racconta un'appassionante partita a guardie e ladri tra politica e giornalismo, dove ognuno dei contendenti conosce ed usa gli strumenti dell'altro e fa leva sulle sue debolezze. Arbitra Kevin McDonald, che viene dal documentario (e che documentario, Un giorno a settembre) e sa trovare la verità nell'invenzione. Il mondo del giornalismo è ritratto con l'occhio dell'insider: tra la macchina da presa e il mestiere messo in scena non c'è altro filtro che una parete di vetro, trasparente; il mondo della politica, al contrario, è il regno della mediazione: schermi televisivi, obiettivi fotografici, microfoni cui affidare frasi scelte e ponderate. L'umanità della storia s'infila nel mezzo, là dove il politico bussa alla porta del reporter e viceversa.
Tutto, qui, ha almeno una doppia prospettiva e più spesso un ventaglio di prospettive: un ventaglio di penne, una per ogni versione possibile dell'articolo da scrivere. Il film stesso raddoppia, rilanciandosi nel finale, e innestando magistralmente, sul tempo "reale" del giornale che deve andare in stampa, il tempo finzionale del genere: le intuizioni dell'ultimo minuto, l'arrivo provvidenziale della polizia.
Il risultato è un presente caricato di urgenza, una situazione in costante divenire, uno "state of play" bisognoso di costante aggiornamento, per il quale, forse, il vecchio giornalismo sporco d'inchiostro non è più adatto.
Russell Crowe e Ben Affleck hanno preso in corso d'opera il posto che doveva essere di Brad Pitt e Edward Norton e ci stanno così bene che si fatica a pensarli altrove: il primo col suo mimetismo e l'aria un poco fuori moda e fuori uso – ma la sua Saab sulla strada viaggia ancora benissimo -, e il secondo con quell'aria belloccia e compassionevole in un'era in cui i bellocci non fanno più compassione a nessuno. Al loro fianco, Helen Mirren e Jason Bateman assicurano il movimento della pagina, il tocco di stile.
« Minuti Contati – Nick Of Time – dvdrip ita/eng I Compagni – Criterion Collection – bdrip ita »